I've been showing property for sale, a lot of property, both homes and land.  Make no mistake, buyers are on the hunt for their retirement homes in Sequim.  For the past three days I've had a great time looking at homes and walking property with a retired couple.  It's been a lot of fun, and a little strenuous as we hiked through trees, up and down hills, and across a beautiful creek that runs through the property.
Sequim Property for Sale With a Creek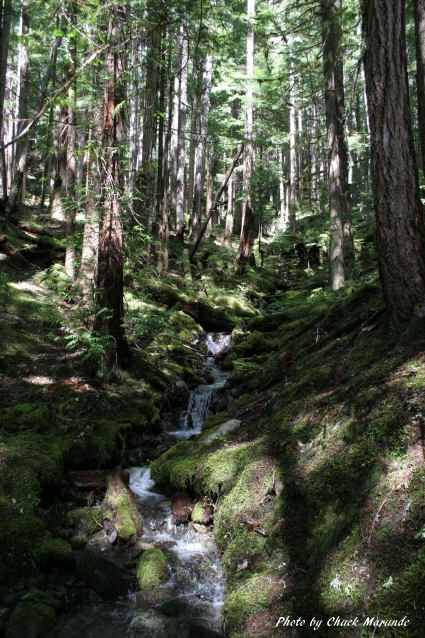 Sequim Property for Sale – A Creek Runs Through It
As we walked one property for sale, I was pleasantly surprised at the gorgeous acreage behind the house.  As a Buyer's Agent I walk a lot of Sequim property for sale, and I show a lot of homes.  But this particular property has acreage behind the house that is like a private park.  There is a trail from the back yard down to the creek, although the trail is grown over by weeds and shrubs.  The creek is small but runs year round with the gurgling sound of a small creek. 
We walked across the creek on a large fallen tree and hiked up the hill and through acres of old growth trees with plenty of thick moss and overgrowth everywhere.  Our fresh ocean air is pure, and you can imagine the fresh scent of pine trees and all kinds of organic vegetation.  With all the tall trees, we have plenty of wildlife.  We have more than our share of bald eagles on the Olympic Peninsula.  My clients asked me to write an offer on their behalf, which I've done.  We now wait for the response, which will be acceptance, rejection, or a counteroffer.
Sequim Property for Sale Extraordinary
Californians would kill to find property like this at this price.  I can't identify this specific property or the price as it is currently in negotiations, but I know how precious this kind of property for sale would be in any metropolitan area of the country.  No wonder retirees are finding the Sequim area to be so much like a taste of Heaven.  Come for yourself and see some Sequim property for sale.
Last Updated on February 12, 2012 by Chuck Marunde