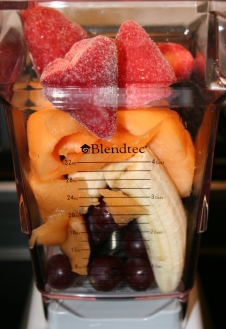 The quality of life in Sequim is one of the biggest reasons so many people retire here from all over the United States.  Much has been written about our Rain Shadow, about our recreation (hiking in the Olympic Mountains, kayaking and sailing, bicycling, surfing and water boarding, fishing, golfing, walking and jogging on the Olympic Discovery Trail, camping, sightseeing around the Olympic Peninsula), and the gifted retirees who have formed just about every club and hobby group you can imagine from the common to the esoteric.
A big part of the quality of life is affordable housing in a location that you love and find peaceful.  Sequim has that, whether it is a water view or a mountain view you want, or even if you prefer to be tucked in a valley up in the mountains.
This morning I ran five miles through Robin Hill Park and down the Discovery Trail, and when I got back to the house I blended a very healthy fruit smoothie with a little protein powder.  It looked so darn pretty, I could not resist taking this photo.
Then I go to work for the balance of the day.  I love living in Sequim.  The quality of life would be hard to beat anywhere.
Last Updated on July 27, 2012 by Chuck Marunde