I was reminded twice this week that this Sequim real estate blog is read by a lot of people, literally millions. Two different people told me this week alone that they read this blog every single day to see what is new in the Sequim real estate market and with the many issues that affect buyers moving to Sequim. As I learn about people who read this real estate blog from all over the country (and even the Netherlands), I have been greatly encouraged to hear that these articles have been helpful to so many people this past year. The articles on this real estate blog are read over three million times each calendar year. That's right. 3,000,000 times. Wow. That both surprises and delights me.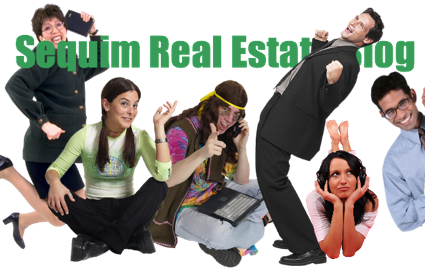 Real Estate Blog Gives It All Away
Of course, all these readers are not moving to Sequim, but many who do plan to retire in Sequim are finding just about every answer they seek on this real estate blog and the many other affiliate sites, vidoes, MLS sites, and other free tools, books, and services offered here. For clients who can't find the answer they seek, this broker will bend over backwards to find the answer. Our clients are at the center of the Universe of everything we do. This real estate blog is proof of our commitment to them.
Real Estate Blog Offers Many Resources
You'll find many resources on this site, if you haven't already found them, including the links in the right margin to powerful buyer resources, and there's a bookstore with several books written specifically for buyers about buying Sequim real estate. I recommend my latest book, Sequim Real Estate: A Buyer's Guide. It's full of the issues that matter most to buyers, and since the author was a real estate attorney for 20 years, you'll find blunt and honest answers to the toughest questions.
While many read the articles on this blog every day by just opening the bookmarked site, many others like to subscribe to the weekly email newsletter which includes a summary of the week's articles. You'll find the subscription option on this page in the middle column. And if you don't find the answer you seek, simply email chuckmarunde@gmail.com and he will gladly share what he has learned. You can also text Chuck anytime for a critical question at 360-775-5424. We never stop serving you, and this real estate blog is living proof.
Last Updated on September 21, 2019 by Chuck Marunde