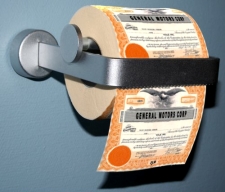 You can buy real estate for your IRA instead of stock.   That sounds pretty attractive right now, and a lot of people are taking advantage of this option.     What's the advantage?   Many folks are talking about how their retirement funds in the stock market are down 30% to 40% right now.   While real estate dropped in most areas of the country, too, the drop is very small.   For example, in King County, Washington, houses are down 4% from last year.   That's pretty stable, if you consider that a house bought in King County in 2000 for $241,000 has a FMV today of $430,000.   That $430,000 is only down $19,670 (4%) from last year.   That beats an IRA in the stock market hands down.   Real Estate is more stable.   Always has been.
An IRA custodian may allow you to purchase raw or vacant land, residential properties, or commercial buildings for your portfolio.   Some custodians will permit foreign property or leveraged property.
Since buying a property may require more funds than you currently have available in your IRA, you also can have your IRA purchase an interest in the property in conjunction with other individuals, such as a spouse, business associate, or friend.   If the property is leveraged, the debt must be a non-recourse promissory note.
The Internal Revenue Service will not let you use the real estate owned by your IRA as your residence or vacation home, nor can your business lease space in your IRA-held property. The underlying premise for any real estate investment purchased with IRA funds is that you can't have any personal use or benefit of the property.
There are a few other IRS limitations as well. You cannot place real estate you already own into your IRA. Your spouse, your parents, or your children also could not have owned the property before it was purchased by your IRA. Property owned by siblings, however, may be allowed, since the Internal Revenue Code (section 4975) specifies that only "lineal descendents" be disqualified.
This is an excellent option for those who are seeking a more stable long term retirement fund and who have confidence in real estate.   As I look back on real estate over the past 30 years, it has been consistently appreciating and even in economic downturns, it still holds its value much better than stocks.

Last Updated on October 19, 2008 by Chuck Marunde