THIS MAY BE THE MOST PRACTICAL GUAGE OF THE REAL ESTATE MARKET USING REAL LISTINGS AND REAL SALES. PERUSE THIS AND DRAW YOUR OWN CONCLUSIONS!
In every market decline sellers end up chasing the market down. In other words, in every market recession sellers list their homes too high and are forced to keep reducing the price throughout the decline because they are always behind the market. 
We are in a market decline now, and sellers once again are pricing their homes too high initially and then reducing the listing price again and again behind a falling market. Beware sellers, we know it's not you but your listing agents that are giving you the bad advice. They do it in every recession, and they're doing it now.
Obviously, I'm not saying every single seller does this, but enough do it to create a clear pattern in every decline. The only sellers who don't step into this trap for the unwary are the small percentage who are well represented by listing brokers1To understand how deep and wide this problem is in the real estate industry, I strongly recommend my book, Seven Myths of Selling Your Home, which is on Amazon. with the depth of real estate knowledge, experience, and integrity to keep their clients out of trouble.
Let's unpack this idea in a simple example so you can instantly understand exactly what I'm saying. A homeowner lists their home with a "premier listing broker" who recommends a price of . . . let's say $650,000 for this example. The seller assumes this premier listing broker knows what he/she is talking about and trusts him/her. (I'll use a male pronoun in the remainder of this article for simplicity's sake, but you insert your own pronoun.) 
The market is in decline. No one knows exactly how much or how long the market will decline, but all recessions start this way. After a month on the market and no sale, the premier listing broker calls the seller and recommends a price reduction.2Elsewhere in articles and in my book, Seven Myths of Selling Your Home, I explain how many listing agents "bid" for listings by quoting the highest listing price, thereby assuring they get the listing, and then they can reduce the price later because the seller never figures out the scam. That certainly is not the case every time a broker procures a listing, but I've seen the pattern too many times not to have recognized it for what it is. The seller agrees, and the price is reduced by a significant amount, perhaps by $25,000. After another month and still no sale, the price is reduced again, and again and again. 
What's really going on here? The premier listing broker was wrong in setting the original listing price too high. The value may have only been $600,000 when he listed it at $650,000. And when he instructed (oops, I mean recommended) the seller reduce it each time by another $25,000, the premier listing broker was always behind the falling market–hence my phrase "chasing the market down." 
I've seen premier listing brokers do this to sellers in every market for the past four decades in Alaska, Washington, and Nevada. Sellers get hurt in every market because of this. What happens to them? When they might have unloaded their home in the beginning for $50,000 less than the price the premier listing broker recommended, too many end up chasing the market down and down and down, until finally they sell their home at the bottom of the recession for $100,000 or $200,000 less than the original listing price. What a tragedy, and one that does not have to happen! Don't think this happens? I watched it happen in the last recession of 2008, and here we go again.
Do you doubt this is happening in the Sequim and Port Angeles market right now? Just use Zillow to look at price reductions. Let me show you how to do that quickly. 
Do a search on Zillow of "Sequim, WA". You'll get a map of Sequim homes for sale. Make sure you have the default "For Sale" selected at the top, and then "Remove Boundary" in the top right corner of the map, so you'll get listings in the city of Sequim and outside the city limits in Clallam County. You can do this same kind of search for Port Angeles or any city in America.
Now let's narrow our search parameters a little for purposes of making the results manageable. Set your lowest price to $500,000 and the highest price to $1 million. You can use any parameters you want, but if you want to follow my example here, use what I'm using. We're not interested in brand new listings, because they haven't had time to get filtered by the market yet on price. Okay, let's jump into a world of reality proving premier listing brokers are overpricing listings and chasing the market down. 
Example #1:  https://www.zillow.com/homedetails/143-Senz-Rd-Sequim-WA-98382/114633617_zpid/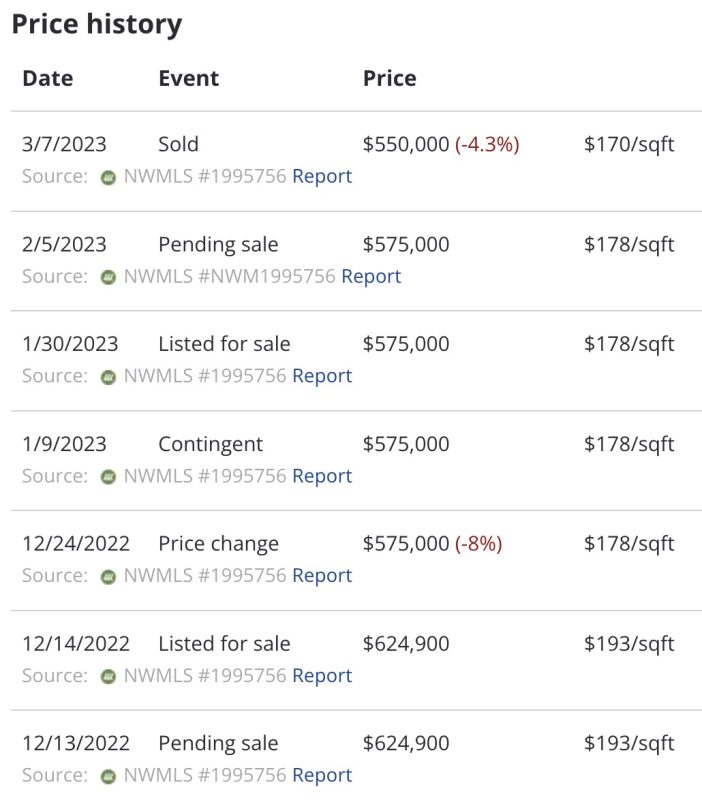 Scroll down to the price history on Zillow, and here's what you would see as of today, November 14, 2022. This is all public information on Zillow, so I'm not revealing anything confidential here. The property was listed on September 14, 2022, which is not very long ago, right? But already there have been two price reductions in only two months, but that means three prices in two short months–the original listing price and two price reductions. This listing started at $685,000, and now it's at $624,900, and it still hasn't sold. Will it need another price reduction? That remains to be seen.
UPDATE 2/4/23: This one is now down to $575,000 and 142 days on Zillow. This listing price is $110,000 less than the original listing price. Wow! Need I say any more?
FINAL UPDATE 3/9/23: This one finally sold, although the selling price was lower still at $550,000. Let's look at the full price history on Zillow in the summary to the left, all public information you can look at, too. From the original listing price of $624,900 to the final selling price of $550,000, we see a price reduction of $74,900, which is 12% less. That's 84 days, which is not all that bad, but it's the listing price that was too high for most of this time that caused the delay in getting it sold. Listing agents are making egregious mistakes, and who gets hurt? The sellers.
Example #2:  https://www.zillow.com/homedetails/143-Mariners-Dr-Sequim-WA-98382/114622726_zpid/
Scroll down to the price history on Zillow, and here's what you would see as of today, November 14, 2022. Let's list the price history this way:
4/24/22: Listed Price $689,000

5/21/22: Price reduced to $649,000

5/27/22: Price reduced to $624,000

6/03/22: Price reduced to $614,000

6/17/22: Price reduced to $599,000

7/28/22: Price reduced to $589,000

10/26/22: Price reduced to $573,500

UPDATE 11-26-22

:

PRICE NOW REDUCED TO $553,300

UPDATE 11-29-22

:

PRICE NOW REDUCED TO $525,900

UPDATE 2-4-23: PRICE NOW REDUCED TO $499,000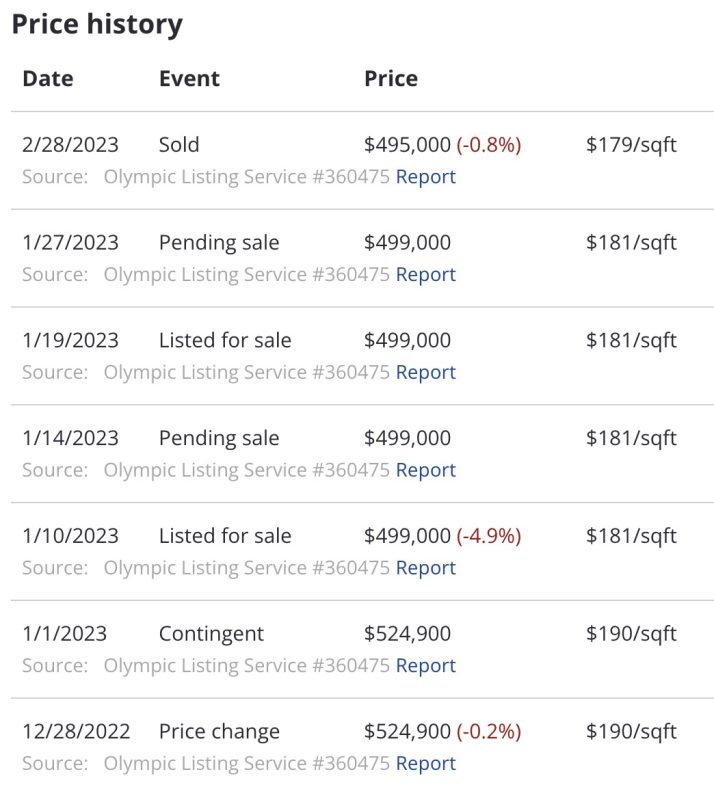 I didn't go looking for this example to prove my argument that premier listing brokers and their sellers chase the market down, but you could not find a better example than this. Seriously, this listing came on the market near the end of April of this year and has had seven prices with six seven eight price  TEN PRICE reductions. And as they say, "The fat lady hasn't sung yet," so this story isn't over. 
FINAL UPDATE: 3/9/23: SOLD for $495,000. The price reduction on this one wasn't so bad, $29,900. Again it was the length of time it took to sell because it was overpriced. It was 62 days, which actually is not bad at all in a declining market. They had some trouble getting it sold though, as you can see, because it went pending 3 times. What was that about?
Example #3: https://www.zillow.com/homedetails/31-Barberry-Ln-Sequim-WA-98382/114621263_zpid/
This listing has only had one price reduction, but that was 21 days after the original listing, and the price reduction was $101,000. Wow! That's a heckuva price reduction! What does that tell us? It tells us the listing price was grotesquely too high to begin with, and now one wonders if it is priced right, or is this seller going to ride the market down like so many other sellers.
11/21/22 UPDATE: A sale is pending. Hurray! We'll find out after it closes what the sales price was.
11/30/22 UPDATE: Sold and closed at $489,000! This listing started at $650,000 and sold for $161,000 less.
Example #4: https://www.zillow.com/homedetails/262-Foursome-Dr-Sequim-WA-98382/114627594_zpid/
NOTE: I'm not selectively choosing listings that make my argument. I'm just going to the next listing, and I sorted these from lowest to highest price.
Scroll down to the price history on Zillow, and here's what you would see as of today, November 14, 2022. This listing was put on the market on September 28, 2022 at $799,950, and there have been two price reductions since, one to $750,000 and another to $698,000. From the listing date to the last price reduction of just over $100,000 is only 21 days. 
UPDATE 2/4/23: FINALLY SOLD FOR $670,100 ON 12/19/22 AFTER 83 DAYS ON THE MARKET, AND $129,850 LESS THAN THE ORIGINAL LISTING PRICE.
Example #5: https://www.zillow.com/homedetails/2941-Lotzgesell-Rd-Sequim-WA-98382/215151720_zpid/
6/24/22: Listed at $835,000

7/19/22: Price reduced to $825,000

7/26/22: Price reduced to $799,950

11/1/22: Price reduced to $774,950

UPDATE 11/19/22: Price reduced to $765,000

UPDATE 2/4/23: STILL UNSOLD AND ON THE MARKET AT $745,000 WITH 201 DAYS ON MARKET AS OF TODAY AND STILL COUNTING.

UPDATE 3/9/23: STILL UNSOLD AFTER 258 DAYS AS OF TODAY, AND HOVERING AT $90,000 BELOW THE ORIGINAL LIST PRICE. NOT GOOD.

UPDATE 3/22/23: STILL UNSOLD AFTER 272 DAYS AS OF TODAY AND NOW LISTED AT $745,000, $110,000 BELOW THE ORIGINAL LISTING PRICE.
Need I even bother to explain this one? By now I'm sure you know the drill and how to use Zillow to gauge what is going on in the market. Do your own Zillow search and analysis. I only shared five examples here, but we could do this all day long, not only for Sequim and Port Angeles, but for areas all over Washington.
Chasing the market down in a declining market is an old pastime I see in every decline. Most listing brokers haven't been through multiple market cycles, and those who have don't ever seem to connect the dots.
Just watch this in the months ahead. It's particularly sad for the widow or widower who goes down this path. Well, it's sad for any retirees or any sellers who have to experience this. By the way, you can use Zillow to track listings or to watch what happens on price and when they finally sell. All you need is a free Zillow account, and when you see a listing for which you want a notification on a price change or just to watch the final selling price, mark it as a favorite, and you can come back to view your short favorites list anytime. I do this myself as a broker. For example, I watched this listing, which I showed at one time, because I wanted to observe the price reductions, which I knew would be coming, and I wanted to observe what a buyer would eventually pay for this home. That home can be seen at:
https://www.zillow.com/homes/402-Marine-Dr-Sequim,-WA-98382_rb/114629518_zpid/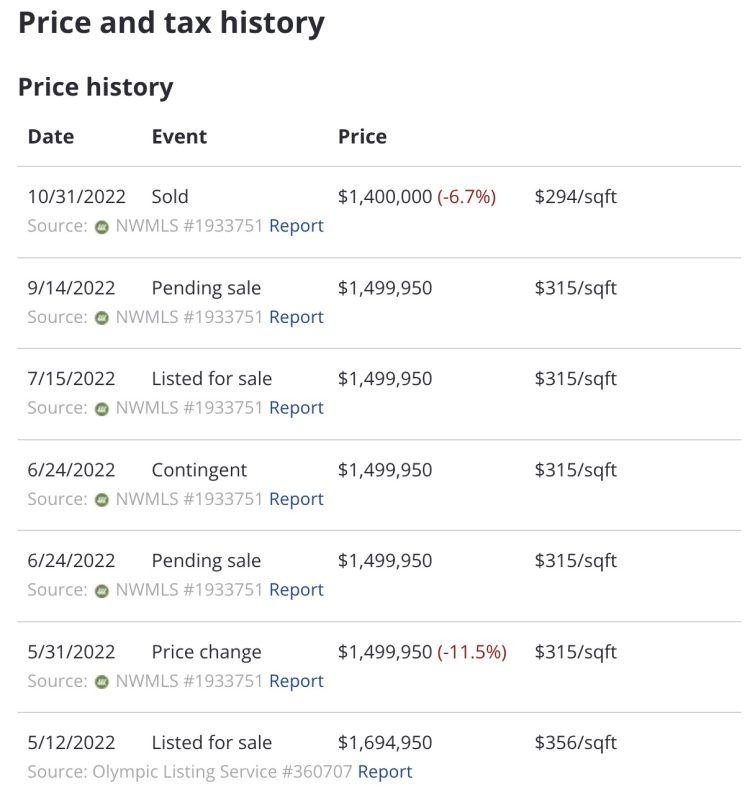 This one started too high and ended up selling for almost $300,000 less. 
UPDATE: 11/19/22 This one finally sold for the last price.
I use Zillow myself to watch properties I think are likely to chase the market down, like this one which I recently showed and wrote an offer on (which was not accepted):
https://www.zillow.com/homes/2363-Cays-Rd-Sequim,-WA-98382_rb/114629973_zpid/
I've tagged it in Zillow, so I'll be notified when it gets another price reduction, or it goes pending.
UPDATE 11/19/22: This one is pending, but we won't know the sales price until it closes.
UPDATE 2/4/23: FINALLY CLOSED ON 12/29/22 FOR $587,500. THAT'S $61,500 LESS THAN THE ORIGINAL LISTING PRICE, AND IF YOU START AT THE FIRST LISTING DATE, THIS HOME WAS ON THE MARKET FOR 1,616 DAYS. IT WENT OFF THE MARKET AND CAME BACK ON, SO WHO KNOWS WHAT WAS GOING ON, BUT THIS IS NOT A SELLER'S MARKET ANYMORE TOTO. NOTE: THIS HOME WILL TAKE $150,000 OR MORE TO JUST BRING IT UP TO WHERE IT SHOULD HAVE BEEN AT THIS PRICE. THE MASTER BEDROOM WAS A GARAGE CONVERSION, AND STILL FEELS LIKE A GARAGE. MY BUYERS ESTIMATED IT WOULD TAKE CLOSER TO $250,000 TO BRING THE HOME UP TO WHERE IT NEEDED TO BE. ON TOP OF THIS, HOME VALUES HAVE CONTINUED TO DECLINE AFTER THIS PERSON PAID $587,500 FOR IT. THE SELLER GOT LUCKY HERE IN MY OPINION. THE BUYER OVERPAID IN MY OPINION. 
You might wonder who pays too much for a home in a declining market like this? In other words, who would pay $50,000 or $100,000 or even $200,000 more than a home's FMV? That's easy. Once in a while we get a California millionaire who has more money than sense. They sold their home for a big price and they want to live in a place like Sequim, and they get desperate, and instead of retaining a good buyer's agent who will help draft a reasonable offer, they just ask their "premier real estate broker" how much they should offer.3You wouldn't hand a million dollars to a registered investment advisor and say, "Do whatever you think with my life's savings." Why would you let an inexperienced real estate broker make such important decisions with your money without verifying their professional expertise? You might think that justifies listing brokers overpricing homes on the hope that they will get an uninformed or desperate buyer. It can happen, but the odds of that happening are less and less in this obviously declining market, and luck is no way to plan a home selling strategy. If you chase the market down, you can get hurt much worse than if you priced it right to begin with. I hope you get that from this article.
There are only two MLS sites I recommend, Zillow and the one I designed and programmed, Sequim-Homes.com. They each have their unique value and use. 
Look, I have no desire to beat up on listing brokers, but if they're not doing a good job for their sellers, and they're actually costing their sellers money and a lot of unnecessary stress, shouldn't someone call them out? Everything I've written here and shown you is true as you can see for yourself on Zillow. I've been writing about this for decades, so you can't say I've come up with this argument to sell myself. I do need to sell my services, but I do so with integrity. It's only now that I finally decided to do something to help sellers about this, so let me share that briefly. I'm known as a buyer's agent, and I still am, but I've added a new service for sellers.
It's because of this kind of nonsense in the real estate industry by listing brokers, and because sellers are paying way too much in commissions that I created an entirely new business model for homeowners who want to sell their homes. It's a flat fee listing service. Homeowners literally can save tens of thousands of dollars listing their homes with my service, which is a flat fee of $5,000. And the good news is they will get wise counsel along the way. If you're interested, you can go to WaStateFlatFee.com or go directly to watch my video at Flat Fee Listing Service Video.
Meanwhile, if you're a buyer in this market, be very careful, but make sure you hire a buyer's agent who will give you the kind of advice you need, not just the kind of advice that will pressure you into paying too much for a home in a declining market.
Last Updated on March 22, 2023 by Chuck Marunde