Sequim septic inspector and designer Eric Hibbard conducted a septic inspection on this home just sold between Sequim and Port Angeles.  This home is a new manufactured home built with high quality and custom options, which makes it a "cut above" many stick built homes that were built by discount home builders in the area.  This home also sits on 1.25 acres in an area of similar sized lots, and has a view of the mountains to the south.  There actually is a small water view looking out the dining room window and kitchen window to the south.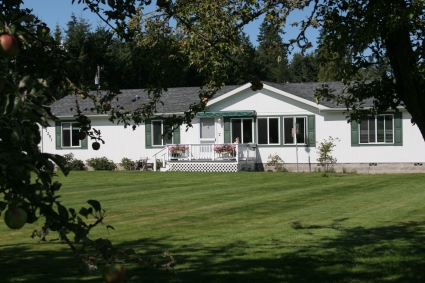 Sequim Septic Inspector Eric Hibbard
Buying  a home in a rural area outside the Public Utility District means having your own well and your own private septic system inspected prior to closing.  A septic inspection is not complicated or expensive, but you really need a Sequim septic inspector who is licensed and certified to do that job.  There are stringent requirements for septic systems, and it is fairly well known that the laws now require systems that are designed to far exceed the standards needed.  All the more reason to hire a Sequim septic inspector to be sure the home you're buying is up to the legal stan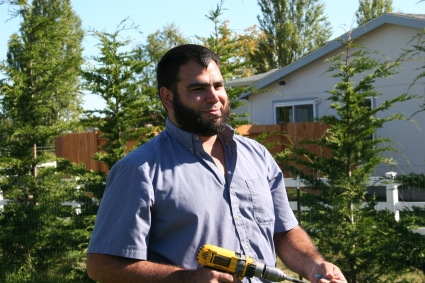 dards and that there are no problems lurking in dark places.
One assumption home buyers sometimes make is that all septic systems should be pumped by the seller before closing.  According to Eric Hibbard, that is not true.  If a septic tank is pumped too early, the bacterial action necessary to break down contents will be interrupted, and the septic system will not operate at peak efficiency.  After measuring the level of solids and liquids in this system, Eric recommended the system not be pumped.  It was operating perfectly.
Our Sequim septic inspector also examines the drain field to make sure it is working properly.  A system permitted for two bedrooms will have a drainfield that is 100 feet long, and you add 50 feet to the drainfield for each additional bedroom.
Sequim Septic Inspector and Designer
There's a good reason to keep Eric Hibbard's contact information in your rolodex (does anyone still use a rolodex?), because the law now requires an annual septic certification by a certified inspector.  It's a pain, but it needs to be done to comply with the law, although there is no code enforcer on this requirement.  Should you need an annual inspection, I do recommend Eric, because he is not only licensed and certified, he is also very knowledgeable and professional.
Eric Hibbard, can be reached at Soils Application in Carlsbord (between Sequim and Port Angeles) at 360-683-6300, your friendly Sequim septic inspector.
Last Updated on September 1, 2019 by Chuck Marunde