This gorgeous Sequim water view home sold after only two days on the market with us. Watch this 3D Virtual Tour, and you'll see why. With our 3D Virtual Tours you can use your mouse or the arrows on your keyboard to move through the entire house (even down the stairs), and you can turn 360 degrees from any location. It's fun to be able to walk around the kitchen island on your computer and see exactly what you would see if you did it in person.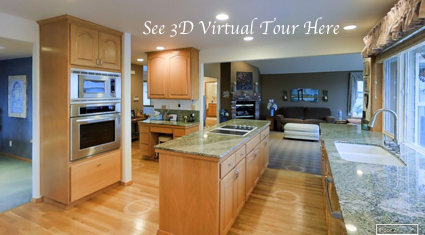 Sequim Water View Above Sequim
These 3D Virtual Tours completely trump the old fashioned photo tours, which are not actually very virtual. You no longer have to guess where rooms are with respect to each other, because you can literally see for yourself. This 3D Virtual Tour also gives you a 2D and 3D view of the floor plan for both floors. This is amazing stuff, not just for a Sequim water view home, but for any home of this quality.
Sequim Water View Home
While this home is now pending, this gives you an idea of what a Sequim water view home listed at $425,000 looks like. Plus, I thought you might enjoy seeing a 3D Virtual Tour. If you want to learn more about this home, simply go to Sequim Water View.
Last Updated on January 6, 2021 by Chuck Marunde