Sequim water view homes are one of the big attractions for many retirees.   We have the advantage of being surrounded by water.   After all, we are on a peninsula.   That means we have many lots and homes with salt water views.   Of course, it doesn't mean every Sequim water view is perfect.   Many homes only have a slice of a view of water.   I don't count that as a water view.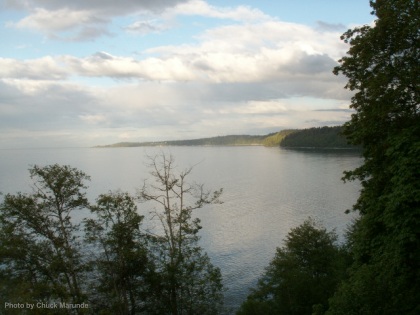 Our Sequim MLS (the Olympic Listing Service) has 110 listings as of this writing that have been identified as Sequim water view homes either with a view of salt water, or with a view of salt water plus a view of the Olympic Mountains.   You can see these listings at:
In my recent showings to clients, we have looked at homes and land with a variety of water views.   Some of the views are right on the beach at just above sea level.   Other views are high bluff frontage, and some of these bluffs are 100 to 150 feet straight down.   Beautiful, but a bit daunting when you're standing on the precipice looking down.   And then there are water views that are spectacular, because they are high in the mountains with a lofty and panoramic water view.   These views are further away, but no less stunning.
One of the challenges in selecting a water view is the quality of the view, which most often translates into how wide the view is.   A view that is 180 degrees is extraordinary, but you certainly pay more for the ultimate Sequim water view.   Other water views diminish to a narrow peekaboo view through tall trees.
View my special Sequim water view map search and see if you find anything that catches your attention.   If you do, email or call.   If you're from outside the area and need a better photo or video of the view from the property, I'd be delighted to do that for you.
Sequim water view homes by Chuck Marunde, 360-775-5424.
Last Updated on October 15, 2019 by Chuck Marunde