Today we talk Sequim restaurants.  I know that isn't real estate, but taking a break from all the serious real estate issues might be a good idea.  After all, when you come to Sequim to look at homes, you will need to eat, right?  I've put together a directory of Sequim restaurants for you and you'll find it by going to this link at Sequim Restaurants. 
Sequim Restaurants
I want to mention one of my favorite Sequim restaurants, Applebees.  Applebees has a consistent menu, but they have added a great selection of "Under 550" items to their menu, which are complete healthy meals under 550 calories.  For example, here is a great meal of chicken and vegetables that is very healthy and satisfying.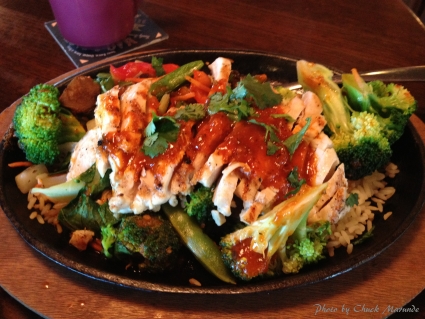 Sequim Restaurants

You can take a peek at their Under 550 menu online right here at Sequim Restaurants Under 550.  When we are young, we can get away with eating almost anything and staying up all night, but I've noticed as I've gotten older that I need to eat good healthy meals, and my body also likes a good night's sleep.  Have you noticed that yourself?  As you can see, I always clean my plate like a good boy.
Sequim Restaurants
My daughter and I love eating out at Sequim restaurants, and another favorite we have is the Fortune Star.  They have a seafood plate that is a delight to the palate.  Come and see us in Sequim and enjoy our wonderful Sequim restaurants.
Last Updated on January 6, 2021 by Chuck Marunde