Shopping in Sequim is enjoyable, and there's a good reason. Shopping in Sequim compared to shopping in neighboring cities or in our regional metropolitan areas is not nearly as crowded and hectic. Here's a dramatic example.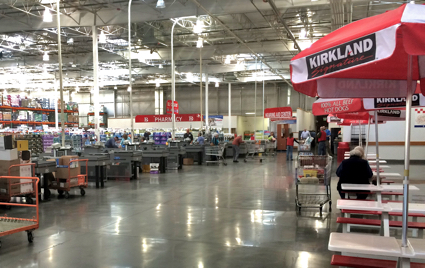 Shopping in Sequim
This is the crowd at Costco in Sequim on Monday, April 27th, at 4:20 p.m. I took this photo at the end of the check stands. Some crowd, right? At this same time of day, Costco in Silverdale would be solid bodies in a photo like this, as would every Costco in the Seattle and Tacoma areas. Not every day is like this at Costco in Sequim, but the point is shopping in Sequim is so NOT crowded. What a pleasure it is shopping in Sequim.
Shopping in Sequim and Traffic
Sequim traffic is also not congested like it is around every other Costco in the state of Washington. I have personally been at Costcos around the state and in Oregon, and every single one was crowded every day of the week, except in Sequim. That also means that you don't have to drive around the parking lot looking for an empty parking spot. And that means the highway and roads in Sequim are not congested. I've written about the many reasons so many people love Sequim, and this is just another reason–shopping in Sequim is a pleasure.
Last Updated on September 7, 2019 by Chuck Marunde