Thanksgiving in Sequim this year is cool at 42 degrees and relatively quiet.  It seems like everyone has settled in for a thankful day of good food and family at home.  Of course, Sequim is largely a population of retirees, so many are having a quiet Thanksgiving at home as a couple.  And for those who are alone, I hope they are enjoying time with friends.  Thanksgiving in Sequim for me is a time of reflecting on fond memories.  I think as we get older, and I'm 58, the good memories of our childhood and of raising our own children become more and more precious.
Thanksgiving in Sequim a Time for Fond Memories
I've been reflecting on how I grew up and what our Thanksgiving holidays were like.  I grew up in a town of 400 people in rural Alaska.  It's called Tok, pronounced like the first part of Tokyo.  The nearest major city was Fairbanks, and that was 205 miles away. Tok is a remote town in Alaska, but my childhood is full of incredible memories of good times.
Thanksgiving for me always meant a house full of family, and that meant 12 to 18 of us.  And during the day we would have a drop in or two.  My mother was a real life Edith Bunker from All in the Family.  She never had the opportunity to get an education, and she married young, but she was the most loving person I've ever known.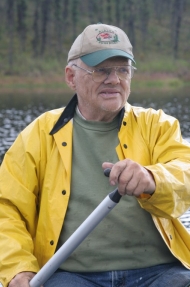 My father was definitely not Archie Bunker.  He was much more like Gene Hackman in Enemy of the State.  He was very smart, and had a dry wit when called upon.  I have many fond memories of hunting and fishing with my father.  I was in the front of the canoe when I took this photo of my father in 2005 on Four Mile Lake in Alaska.  We caught some beautiful trout and cooked them over an open flame as soon as we got to shore. 
My favorite hunting was Dall Sheep in the Alaska Range near the Tok Glacier.  I loved climbing high into the pinnacles where the sheep gracefully navigated the narrow ledges.  I would sit by myself for hours with binoculars looking at wild game (grizzly bears, caribou, moose, sheep, wolverines) and the beauty of the massive mountains and wild rivers.  To this day, those images are set in my mind like a photo album from National Geographic.

Thanksgiving in Sequim Not Like Alaska
Thanksgiving in Alaska was the only time of year we were not eating Moose stew, Caribou hamburger, Sheep steak, or smoked Salmon.  We actually ate Turkey on Thanksgiving, the one time of year we had a traditional American meal.  If we had enough snow at Thanksgiving, we would jump on the snow machines and play on the many miles of trails that extended  in every direction from our house. 
In the early days we lived in a 900 square foot cabin.  There was no electricity that far out of town, and so we had a Kerosene lantern for light, a propane stove and oven, and an outhouse.  While my brothers and I didn't mind the outhouse, my two sisters did not like that cold seat when it was 50 degrees below zero.

We heated with wood and a large homemade barrel stove.  My father and I had to cut 10 cords of wood to get through each winter.  We didn't have a well, but the state had water available at a community pump house.  We would haul our water by barrels.  It was common during the winter to find our water barrel frozen at the surface, and I would have to chip through the ice to get a glass of water in the morning.
Our cabin was small, and we only had two bedrooms.  Mom and dad slept in one bedroom, and us four kids slept in the other bedroom with three bunks on one wall and a bed above the dressers on another wall.  On the coldest days of winter, the top bunk near the ceiling where I slept would be hot, and the bottom bunk near the floor where my older sister slept would be icy cold.  It was my responsibility to get up at 4:30 in the morning and re-stoke the wood stove before the embers went out.
I admit that growing up in Alaska in those early days was challenging.  If we didn't hunt and fish and work the land, we did not eat.  It taught me to work hard and to be creative.  Today I give thanks because I had such an incredible childhood with so many fond memories, memories that bless me on Thanksgiving Day.

I hope your Thanksgiving is full of wonderful memories of your past.  From my home to yours, Happy Thanksgiving!
Last Updated on November 26, 2012 by Chuck Marunde