The real estate business is changing, but most people don't know how dramatic these changes are.  When you're in the midst of massive economic, cultural, and business change, as we are in the real estate industry, it is very hard to somehow get above the fray and all the chaos and recognize the bigger picture.
The real estate business is experiencing massive changes, and real estate brokerage as we have known it for 30 years is dying.  What is the proof?  The National Association of Realtors reported that 300,000 Relators have left the business in this recession.  Consumers are no longer walking into the big expensive bricks-and-mortar buildings or calling off newspaper ads.  Instead consumers (both buyers and sellers) are using the Internet and the wonderful free resources available to them 24/7 (like this site).
A large RE/Max office closed its doors downtown Seattle this past year (along with many others in King and Pierce Counties).  A few months ago the RE/Max office in Port Angeles went out of business (along with several others).  All over the country offices are closing, merging, consolidating, and even filing bankruptcy.  Realty Executives, a large national franchise, filed bankruptcy two days ago.
Inman News reported today that, "Real estate brokerage and franchise giant Realogy Corp. reported a $237 million first-quarter loss today, as interest expenses on the company's massive debt outweighed improvements in operating income."  Realogy owns Century 21, Coldwell Banker, Sotheby's International Realty, NRT, and ERA, and Realogy also licenses the Better Homes and Gardens brand from Meredith Corporation.  Realogy is the classic traditional brokerage with a huge living nightmare unfolding right before our eyes.  The largest real estate brokerage empire in the country is very unlikely to survive in its present form.
Consumers are the driving force of these changes, but exciting advances in technology and the Internet have given consumers new power and control over how they buy and sell real estate.  My brokerage is on the cutting edge of these changes, and it allows me to serve my clients with all these cutting edge tools.  This chart shows how the old methods are being replaced by new tools on the right side.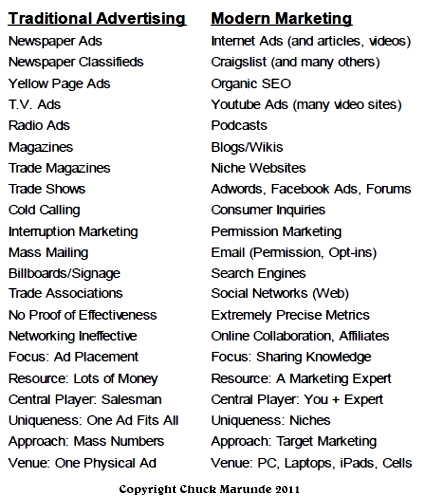 The real estate business is dramatically changing, but the traditional bricks-and-mortar brokerages are falling left and right.  Ultimately consumers are going to be the real winners, and I'm delighted to be part of the change that serves consumers best interests here at eXp Realty, also known as Sequim and Port Angeles Real Estate.  I'm Chuck Marunde, buyer's agent.
Last Updated on September 4, 2011 by Chuck Marunde