Now that so many retirees of this generation are paying off their mortgages, the question often comes up, what happens when I pay off my mortgage?  How does that work, and how fast is the property free and clear in the land records?
The Process When I Pay Off My Mortgage
In Washington what we call a mortgage is actually a note and deed of trust, and when the note is paid in full, a reconveyance is recorded by the beneficiary, and your property is free and clear.  (There is such a thing as a mortgage, but it's not used much in residential real estate anymore.)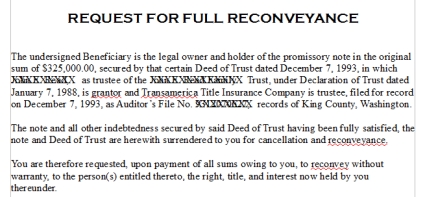 Pay Off My Mortgage and Requesting a Reconveyance
When you pay off your mortgage, the trustee (the Trustee named in your deed of trust, usually a title company) will send the beneficiary (the bank) a Request for Full Reconveyance, and when the Reconveyance is signed by a bank officer, it is recorded, and Voila! your real estate is free and clear.
I was asked today by a client, "When I pay off my mortgage, how soon does the reconveyance (or satisfaction for an old mortgage instrument) have to be recorded showing that my property is no longer subject to a loan?"  The answer is 60 days.  The reconveyance may actually be recorded in a matter of a couple of weeks, but there is a Washington statute that addresses this:
If the mortgagee fails to acknowledge satisfaction of the mortgage as provided in RCW 61.16.020 sixty days from the date of such request or demand, the mortgagee shall forfeit and pay to the mortgagor damages and a reasonable attorneys' fee, to be recovered in any court having competent jurisdiction, and said court, when convinced that said mortgage has been fully satisfied, shall issue an order in writing, directing the auditor to immediately record the order.  This comes from RCW 61.16.030.
Pay Off my Mortgage on a Sale
If you refinance your home or sell your home to a buyer who finances the purchase (or pays in cash), the same process will have a reconveyance recorded on your loan.
Now you know the answer to the question, what happens when I pay off my mortgage?
Last Updated on September 16, 2011 by Chuck Marunde