Waterfront property and beachfront property as shown in this photo of Freshwater Bay is available on the Olympic Peninsula east of Sequim all the way west of Port Angeles, but I know from my own clients' experiences that you have to search for the needle in the haystack to find the perfect property with the view you want within your price range.
Waterfront Property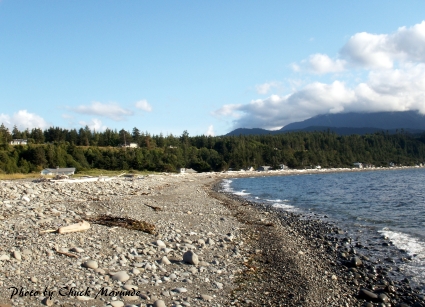 Waterfront Property or Waterview Property
I've organized our current MLS listings in a couple of convenient categories for you.  Here is a link to the MLS listings that have a waterview, at least according to the real estate agents who listed these properties.  Realize that some agents will call a "peek-a-boo" waterview a water view.  This list consists of 181 homes with some kind of water view, 3 bedrooms or more, and of course, these are all in Clallam County, and the second link includes a list of homes with the same parameters except  these 91 listings claim to have both a water view and a mountain view:
Homes With a Water View and Mountain View
Waterfront Property
And here is a list of 31 MLS properties that includes waterfront property in Clallam County, 3 bedrooms+, and all price ranges:
Waterfront Property for Sale in MLS
You can search all the listings for homes and land on the Olympic Peninsula east and west of Sequim by city with these alphabetical links:
Beaver Real Estate For Sale
Belfair Real Estate For Sale
Blyn Real Estate For Sale
Chimacum Real Estate For Sale
Clallam Bay Real Estate For Sale
Forks Real Estate For Sale
Joyce Real Estate For Sale
Port Angeles Real Estate For Sale
Port Hadlock Real Estate For Sale
Port Ludlow Real Estate For Sale
Port Townsend Real Estate For Sale
Quilcene Real Estate For Sale
Sammamish Real Estate For Sale
Sekiu Real Estate For Sale
Sequim Real Estate For Sale
If you're searching for waterfront property or waterview property, I hope you'll consider me as your buyer's agent.  You can learn more about me at Sequim Buyer's Agent.  There is a lot of waterview and waterfront property available in the Sequim area.
Last Updated on September 2, 2019 by Chuck Marunde