Imagine sitting on the deck of your new home sipping a delicious latte (or maybe a glass of wine?), looking at a gorgeous water view (or mountain view), a fresh breeze coming from the ocean, and feeling more relaxed than you've felt in years now that you're retired and settled into your dream home. This is a dream come true for many who retire in Sequim (or Port Townsend or Port Angeles).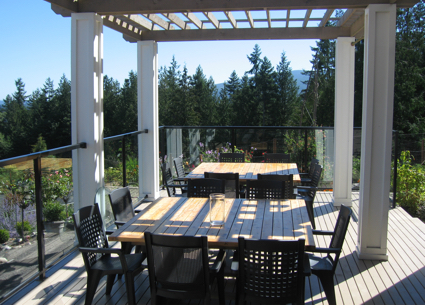 A Deck in the Sun
In Sequim the best water view is typically from a deck on the north side of the house, and the sunniest side will be the south side. The mountain view is also to the south. While Sequim is famous for being in the blue hole and only getting 16 inches of rain annually, we do get a combination of sun and rain that is hard on wooden decks. Wooden decks eventually fade, splinter, and rot, so Trex decking or other composite decking that is weather proof has become quite popular.
A Deck for Enjoyment and Entertainment
In this photo above, my clients arranged their deck so they could entertain friends, which they enjoying doing regularly. And with a beautiful view of Sequim Bay, their deck is a Heavenly place of peace and relaxation. With spring arriving and flowers blooming, it is time again to enjoy the deck. When you're looking at homes in the MLS online, it's hard to tell which way the deck faces, but you can often use Google maps to help answer the question on the exact location of the deck and whether it faces north or south.
Last Updated on September 7, 2019 by Chuck Marunde