Are Sequim foreclosures a good buy?   This is a question I get a lot, because buyers are looking for the best value right now, and let's face it, almost everyone is talking about foreclosures.   There are rumors and rumors of rumors of incredible steals in the foreclosure market, but is it reality?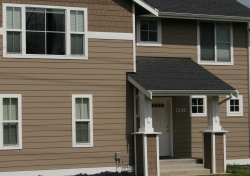 There are some steals in the real estate market in places like Las Vegas, Phoenix, in parts of Florida, and in other hard hit areas, but not in Sequim.   Sequim does not have a flood of foreclosures.   Do we have more foreclosures than in years past?   Of course we do, but this small market is much more stable than most large metropolitan areas around the country, and our retiree population is traditionally much more conservative and far less likely to get foreclosed upon.
The few Sequim foreclosures that we do have are not necessarily good buys.   There is some garbage out there that most buyers would not want to live in.   Of the larger homes that are more attractive for their location and features, many of these foreclosures are in sad shape and not priced great either.
In one case, the home has been stripped of almost every single light fixture, the ceiling fans, the kitchen stove and island, the sinks, and even light fixtures on the outside of the house are gone.   The master bedroom deep jetted tub has been broken and most likely needs to be completely replaced.   Some parts were taken from the plumbing.   Some other fixtures in the house are also missing.   On top of this, I learned the original owners did not get the proper building permits before moving into the house.   What a nightmare this foreclosure could be.   It could easily cost $150,000 to make this house habitable and legal.   Since these homes are sold "as is," there could be even more hidden defects.
In another case, light fixtures were also missing, all the carpet in the house was a major disaster with dog poop and urine stains in every room.   The entire kitchen needs to be replaced, including the hardwood floors, and the yard is a run down disaster.   It would be one thing if the price was exceptional, but guess what?   The foreclosing banks who assigns their foreclosed homes to REO's who handle the listing and the price and negotiations, do not have a clue, and neither do the REO's here.   It's a major hassle and nightmare for some to try to get a reasonable price for a foreclosure and not get jerked around by parties on the east coast who don't know anything about the property, its true value, and who could care less about who you are.   One of my clients recently walked away from a month of negotiations with a house like this, even though they had arrived at an agreement on the price.   The REO tried to pull a fast one with some unbelievable conditions my clients would never accept.
So if you really are seriously looking at Sequim foreclosures, what do I recommend?   Go ahead and look at foreclosures, but spend most of your serious time looking at the existing inventory of seller owned homes in the MLS.   You'll find more motivated individual sellers and get a great home negotiated at a great price within days, instead of within months.   And you won't be buying a disaster.   In Sequim there are far more great deals to be had by seller owned listings than there are in the chaotic foreclosure market.   I promise this is true.
You can do a complete search of the Sequim MLS, including Sequim foreclosures that are listed in the MLS by simply going to Search Sequim Foreclosures.
Last Updated on October 9, 2009 by Chuck Marunde