Bell hill homes have always held a special place in the eyes of many prospective buyers, largely because so many Bell Hill homes have incredible water views from so high up. There are many reasons people retire in Sequim, and the water views are certainly one of those compelling reasons. We do have an advantage since we are a Peninsula surrounded by water. But we are also far from the industrial metropolises of America, so our air is fresh and unpolluted, and our strait and bays are also clean and full of marine life.
What I want to do here is give you a link to all the Bell Hill homes for sale. There are 30 in our MLS right now, and looking through the photos of these homes is just entertaining, even if you're not in the market.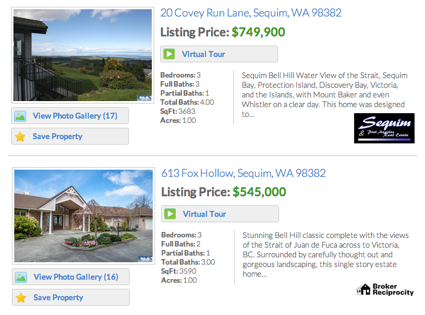 Bell Hill Homes and Prices
You can click on the image above or you can go to Bell Hill Homes for Sale. Either way, you'll end up at the same place looking at all Bell Hill homes in the MLS right now starting from the highest price and working down to the lowest price home on the Hill. There are only four below $400,000 at the time of this writing, but that probably doesn't surprise you. Most people don't buy a beautiful water view lot to build a little two bedroom shanty.
Bell Hill Homes – Your Boots on the Ground
I've shown many of these Bell Hill homes, so if you have any questions, simply email or call anytime. I can tell you what the lot is like, what the view is, how steep the roads are to and from the property, and walk you through the floor plan if you can't get a handle on that from the MLS photos.
Last Updated on September 21, 2019 by Chuck Marunde