Many Diamond Point Homes have water views, and it makes sense since Diamond Point is literally a Point that juts into Discovery Bay and the Strait of Juan de Fuca. In this photo you are looking at Protection Island from a Diamond Point home. Beyond Protection Island are the San Juan Islands and to the left or northwest is Canada.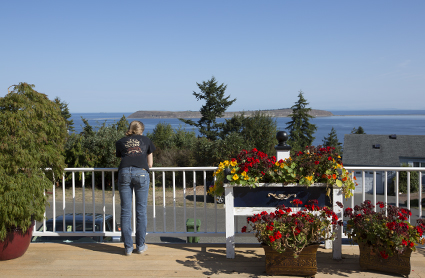 Diamond Point Water Views
I sold two Diamond Point Homes recently, one for $235,000 and one for $372,500. This photo is taken from the deck of the later. Diamond Point is only a 15 to 20 minute drive from Sequim, so it's not remote, however, some retirees prefer to be closer to Sequim as there are no stores in Diamond Point. For those who are used to driving 20 or 30 minutes to town or to the nearest store, Diamond Point may be perfect.
How to Find Diamond Point Homes
One of the attractions of Diamond Point to many retirees is the little airport, and for pilots who have a small plane, this is Heaven. Quite a few guys have a little hangar on the side of their home adjacent to the runway. One of the best ways to see if you like Diamond Point is to drive around and look at the homes available and get a feel for the water views. If you're looking online, you can do a search of all Diamond Point homes with this sweet link to Diamond Point Homes. 
Last Updated on September 22, 2019 by Chuck Marunde