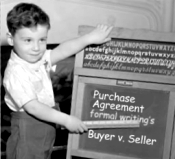 Sequim Realtors have differing opinions about the timing here:   is now the time to buy a home or should a person wait for a while?   Someone once posted a comment that Realtors always say it's time to buy.   Well, there's some truth to that, but it's not true. I'm more interested in an honest and realistic assessment of the market than trying to promote the idea that people should buy real estate through me now so I can make a commission.   Reputation and referrals are far more important than a quick commission, at least they are to me as one of the Sequim Realtors.

Sequim Realtors Talk

I recently wrote an article entitled, When Will The Market Come Back.   As of today, there were 22 comments, and you're welcome to read them.   Joetta commented:
I just finished perusing Rich Dad's Who Took My Money.  He made the point (repeatedly) that when the market is bad is the time to jump in.  I think that's the message we should get across, and help our clients be smart about it.
My response:
Joetta, point well taken.   I agree with you, but let me refine our reasoning a bit.   We need to be smart about how we go about advising clients to get in there and buy.   We need to be honest about the market conditions.   It is not true that it is always a good time to buy, and it is not always true that when the market is bad it is time to jump in.   Robert Kiyosaki would agree in Rich Dad, because buying in a bad market means buying when it makes sense, not just throwing money at any bad market.   Our clients expect us to be intelligent and wise, and they rely upon our counsel, so they should buy when the market is bad, but timing is everything.   When should they buy?   How or what should they buy? If you had told a client 8 months ago to buy, because they should jump in when the market is bad, your advice would have been poor advice.   Since then, depending upon the location, they might have lost as much as 30% in the investment you recommended.   We may or may not be at a bottom, but we can't say for sure this is the right time to buy.
What we can say, and I think you will totally agree with me, is that a particular house may be a really great value right now, and with interest rates at historical lows, and with this being a buyer's market, a particular house may actually be a fantastic buy right now, especially because we have houses that are $100,000 below where they were a year ago, and it may be listed as a short sale.   Even if the market goes down somewhat further, this kind of transaction could be a great deal, if negotiated professionally.   I do think clients are intelligent and want to hear the whole story, and listen to our reasoned opinions about the market and timing.   What they don't respect is Realtors constantly saying, "Now is the time to buy!   Now is the time to buy!"   Many of them have seen how that advice turned out this past year.   Good clients will buy when the timing seems right and the investment looks good.   It's our job to help advise them as best we can.
More from Sequim Realtors
And another comment to that post:
Great writing and quite informative. As an investor and agent, I have always believed that the only real money is made when one buys the property. If one has appreciation, great – that is a bonus as far as I am concerned. I buy and so do my active investors properties that cashflow. I always am concerned about buying a great location and with obtaining the best financing. I am happy to report that I am selling a property that I bought about 6 years ago for about $500,000 profits (before Uncle Sam). It was positive by over $2000 per month all but the last 6 months when it was in contract. The mortgage was paid down by over $100,000 (by the tenant).
There are now almost too many opportunities to evaluate! I can't wait. I am working with "flippers" who are making more money than ever in this "terrible" market   – and with less risk. Yes, one door closes and another opens. Open the door!
And this one:
Chuck … I was at Sequim and Port Angeles years ago for a beautiful week and pleasant time, now days gone by. I agree that  the wise man will prepare for the long winter, be careful with resources, adjust something about the products  he sells, use new methods, reach new customers, be careful about costs, surround himself with wise people, develop a strong network of friends and business associates, people to help each other,   not waste time on old concepts, prepare for other such times, be stretched and challenged, be humble and seek to learn. The wise man will also  put the needs of his clients and customers first.
I think that last sentence says it all:   The wise man will also put the needs of his clients and customers first.
Update on what Sequim Realtors say at Sequim Real Estate Market Prediction.
Last Updated on June 12, 2011 by Chuck Marunde