More foreclosures are on the horizon just about everywhere in these United States.  Retirement havens Sequim and Port Angeles are no exception, although we certainly have a much smaller foreclosure market than most.  Our own foreclosure market is a function of the mortgage debacle and the recession.  Owners who find they owe more than the house is worth are making hard decisions about whether to continue to make the mortgage payments or just walk away.  But there's another reason we will see more foreclosures.  This national recession is taking a tremendous toll on family finances.  Many are unemployed.  The self-employed entrepreneurs, who are the backbone of this great nation, are getting hit hard, and this will mean more foreclosures.   To make matters worse, national banks with mortgage loans on the Olympic Peninsula are quite uncooperative and generally unwilling to work with distressed homeowners when it comes to  what are text book cases for loan modifications and short sales.
So we certainly will see more foreclosures in 2010.  How will this effect the real estate market for buyers and sellers?  Will this present grand opportunities for buyers?  If you are a buyer, should you be scouring the market for that diamond in the rough, aka that foreclosure bargain?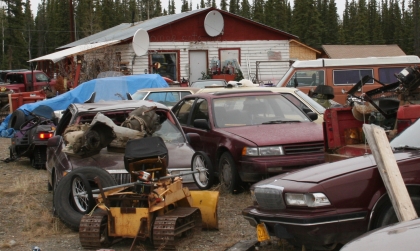 Not all foreclosures are disasters like the one in this photo, but many foreclosures are in such disrepair, or have been damaged intentionally by the previous owners so much that they simply do not appeal to 98% of all buyers.  Several of our local foreclosures have had fixtures torn out, sinks ripped out, kitchen islands taken, hot tub parts removed, and yards left looking like a natural disaster occurred.
Buyers tell me the first priority is location.  What good is a great house if it is in a horrible location?  With that in mind, foreclosures do not lend themselves to the first priority.  A foreclosure cares not where it is located, what the neighborhood looks like, whether there is a mountain view, a water view, or no view at all.  A foreclosure does not care if it is next to a junk yard or 200 feet from a major highway.  You don't get to pick the location of a foreclosure.
Foreclosures on the Olympic Peninsula are not like foreclosures in markets like Las Vegas or Phoenix, where there are so many that they have had to develop systems to organize how the banks will work with the REOs, the appraisers, new lenders, and the listing Realtors.  By comparison, the foreclosure market here is in chaos, not order.
When foreclosures are listed in Las Vegas, they are listed at sellable prices, not excessively high listing prices.  But this is not necessarily true in Sequim and Port Angeles.  Many foreclosures here are listed at prices so high, you can find much better deals in the MLS that are not foreclosures or distress sales.
Of the very few needles in the foreclosure haystack that we do get, you can bet that the property either will not make it to the Trustee's Sale before a full time investor has already purchased it, or it will be sold within two hours of listing.  It is almost impossible to compete on that level.  First, you can't compete in the first instance, and in the second, there's no way to know when a foreclosure will find its way back into the MLS.  But there are some who are either on the inside (don't get me started on that issue, because I do not have the evidence to reveal some of what I suspect may be going on in the foreclosure market behind the scenes), or they are just involved in a series of coincidences.  As a buyer, you can't count on being lucky with a foreclosure.
Conclusion.  An increase in foreclosures in the Sequim and Port Angeles areas will not help buyers as most of them hope or think it could.  The vast majority of buyers (98%) have no interest in the foreclosures that come across their radar.  Of the few who are interested in pursuing the idea of buying a foreclosure, most of them will give up after great frustration and months of searching.  For homeowners who have their homes listed for sale in the MLS with a Realtor at a reasonable price, the homes in foreclosure are not really competition.  Those who would buy a foreclosure are almost never those who would buy a nice three bedroom, two bath home in a nice area here.  Or perhaps that should be said the other way around.  Those who are in the bell curve of buyers who want a nice three bedroom, two bath home with an attached garage in a nice area are not likely to find those parameters in a foreclosure.  And those buyers who retire here and are serious about finding their prefect retirement home often cannot find it in the regular MLS listings.  These buyers will purchase a lot in the perfect location with a mountain view or water view, and hire a custom home builder so they can live the rest of their days in a castle of their own design.  (See Sequim Custom Home Builder)
Recommendation.  I would urge you to narrow down precisely what it is you want and can afford, as well as your timeline.  Then scour the market with your Realtor's help and find the best home for you.  Whether that is a FSBO, a regular MLS listing, a foreclosure listing, or building your own retirement home doesn't matter.  What matters is that you live in your dream home for the rest of your days in peace.  In other words, don't focus all your energy on finding a foreclosure.  That can turn out to be a very frustrating failure.  Instead, focus all your energy on finding that ideal home in the ideal location.  That may or may not be a foreclosure, but  with this strategy your probability of success just went up dramatically.
A great tool online for finding a home or land in the MLS, whether it is a foreclosure or not, is this online MLS search:  Search the Sequim and Port Angeles Homes and Land Listings.
Last Updated on July 27, 2012 by Chuck Marunde