You might be searching flights to Sequim if you plan to come and look at homes.  I'll tell you what many retirees ask me.  They ask, "Do I have plenty of time?  We've narrowed our list of prospective homes down to about half a dozen from your Sequim MLS site, and there's one in particular that really looks perfect.  And it's in our price range.  We're planning a trip to Sequim next month.  Do we have enough time, or should we look for flights to Sequim right away?  Do you think that one house will sell before we get there?"  It's a legitimate question because flights to Sequim are not cheap on short notice.
Flights to Sequim to Look at Homes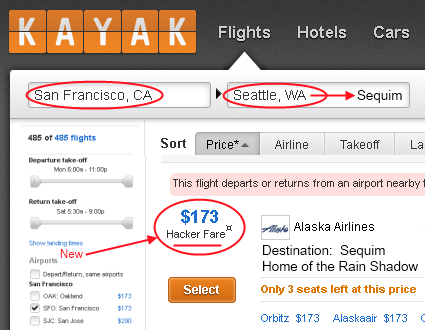 Flights to Sequim Before Your Home Sells
The answer to the question is that the perfect home might sell tomorrow, next week, or next year.  I do recommend reading my article about how the best homes in Sequim in the best areas at the best prices are selling as though they are in a normal market, not a recession, or you can watch the video on Sequim's Real Estate Market is Bifurcated.  If money is no option, then the cost of flights to Sequim on short notice will not be a factor, but for most of us, the cost is a factor.
Here's what I would recommend.  Search the online Sequim MLS and filter through the 800 homes for sale here, and save your small list of six to a dozen homes that most closely fit exactly what you are looking for.  Schedule your trip to Sequim as soon as practical.  For many people this means taking time off work, so you don't have the option to jump on a plane and come anytime.  If you do have more flexibility, and you can jump on a plane anytime, I would not put it off.  Six times this year my clients have had their ideal homes sold out from under them before they could get here.  It happens.  What I don't recommend is getting in a hurry.  I think you must take your time and search the MLS, and come to Sequim as soon as practical, and we'll look at homes.  If you find the ideal home, and you want to make an offer on it, I'll guide you through that process.  As I like to say to clients, "If it is meant to be, it will be."
Flights to Sequim on Kayak and The Hacker Fare
If you want to come to Sequim asap, check out Kayak.com and their "Hacker Fare."  Sometimes you can get a flight to SeaTac from cities around the U.S. at an incredibly low rate based on their "Hacker Fare."  This is two one-way tickets at discounted rates, which sometimes is less than a round trip fare on short notice.  This site is a great site to search flights to Sequim.
Last Updated on September 5, 2012 by Chuck Marunde