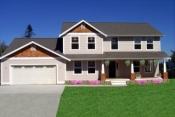 Sequim FSBOs and Port Angeles FSBOs are having a tough time selling their homes, just as real estate agents are listing but not doing much selling.   The market is slow, and on top of that we are in the slow winter months for home sales here.
While it is true that sales are few and far between right now, it is also true that the Sequim and Port Angeles areas have not suffered the crashing prices that so many other areas of the country have.   Las Vegas is down by 30% and even more in some areas.   My son recently moved to Vegas in a job transfer, and has made an offer on a 3 bedroom, 2 bath ranch home in a nice area.   The home was listed at $139,000, and his offer was accepted by the owners at $129,000 subject to a short sale (the bank approving the purchase since the net proceeds will be less than the current balance of the owner's mortgage).   Okay, that's an amazingly low price for a nice home like that in a nice area, but the Vegas real estate market crashed.   Developers and builders overbuilt, and the economy there has taken a huge hit, there have been job layoffs, and a lot of homes are in foreclosure.
No so with Sequim and Port Angeles.   Some might say, "Gee, I wish we could buy a house in Sequim for $129,000."   If you could, that would mean that our market had crashed, that our local economy was in shambles, and that thousands of homes are in foreclosure.   But none of that is true, so you cannot buy a house here for $129,000.   Thank God!   Thousands of homeonwers here are thankful that their homes have not been devalued.
This is actually good news for Sequim and Port Angeles homeowners and investors who are thankful they haven't suffered terribly like so many around the country.   While this may not be fantastic news for buyers, it should be encouraging, because it means we have a stable real estate market here, and that is very good news.   Our prices are still down and sales are down, but nothing like Vegas.
Last Updated on January 15, 2009 by Chuck Marunde