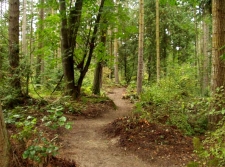 Sequim and Port Angeles have a surprising number of horse ranches.   We also have state parks and Clallam County parks with hundreds of miles of trails for riding and enjoying nature.   One of our local parks in Sequim is Robin Hill Park.
Robin Hill Farm County Park is a   land-locked Park with 195 acres of forest, meadows and wetlands.   Twenty acres are maintained by WSU Cooperative Extension programs for pasture management, agricultural research plots/gardens, and special water conservation and composting programs.   There is an active volunteer Adopt-A-Park program that provides daily maintenance of Park facilities.   There are approximately 3.4 miles of developed foot trails and 2.5 miles of equestrian trails.
You can ride your horses through stands of tall Douglas Fir and along rolling meadows.   You can walk your   dog and enjoy the sights, sounds, and scents of this former farm property.   The Olympic Discovery Trail runs alongside the Park, and that is a trail that runs for many miles.   [View a map of the Robin Hill Farm trails.]
We also have state park lands that have hundreds of miles of trails around both Sequim and Port Angeles.   By the way, there is a beautiful 10 acre horse ranch that does back up to hundreds of trails for sale in the area.   If you have an interest, contact me at chuckmarunde@gmail.com.
Last Updated on September 23, 2008 by Chuck Marunde