Sequim Horse Property for sale on 10 Acres with 4 Bedrooms, and 2 Baths.  This home was originally listed at $540,000 and now it is listed for a quick sale at $375,000.  This is an ideal Sequim horse property, because much of the property has been cleared, had stumps pulled and the fields turned with rich soil and organic grass, has high quality fencing, and is irrigated.  But one of the most valuable features to this property is the proximity to miles and miles of horse trails into the hills.  You don't need to load your horses in a trailer and drive to the trails.  The trails lead out of the back of this Sequim horse property!
THIS Sequim Horse Property HAS SOLD
SEE NEW SEQUIM HORSE RANCH FOR SALE HERE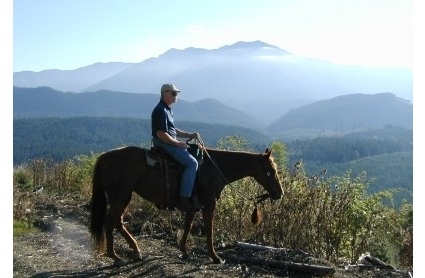 Sequim Horse Property Very Private
This Sequim horse property is located about halfway between Sequim and Port Angeles up Blue Mountain Road. There are miles and miles of DNR horse trails adjacent to this gorgeous 10 acres. How much is that worth?  The house on this property is an older home, but it was remodeled and is in excellent condition.  Nothing needs to be repaired or fixed.  If you have horses and don't need a modern custom built home, then this Sequim horse property may be exactly what you've been looking for.  Here is a video tour of the property.
Sequim Horse Property MLS Details
For a complete listing of Sequim horse property available in the Sequim MLS, go to Sequim Horse Properties.
Last Updated on April 24, 2013 by Chuck Marunde