Mt Baker ski area is a reasonable drive from Sequim WA, but perhaps this photo is worth a thousand words.  Click on the photo to enlarge it.
Mt Baker Ski Area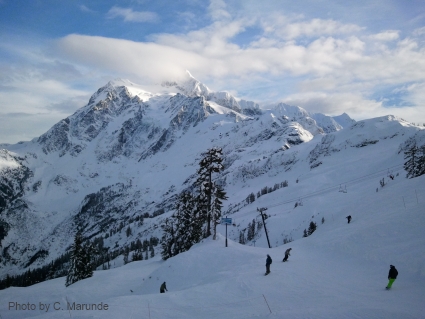 Mt Baker Ski Area Commentary
We drive to Mt Baker ski area from Sequim, and that's a little distance but a pleasant trip.  From Sequim it's about a one hour drive to the Kingston-Edmonds ferry, and after a 25 minute relaxing ferry ride, your in Edmonds.  From Edmonds you drive up Interstate 5 to Bellingham, which is about a one hour drive, and from there we drove 31 miles toward Mt Baker Ski area and stayed the night at the Mt. Baker B&B (hot tub included).  And Sunday morning we drove up the hill (a 20 minute drive) and rented skis and bought tickets for the 9:00 lifts.
There's nothing like a a beautiful sunny day on a perfect ski hill.  It was above freezing in the afternoon, but the snow was great, although a little sticky on the bottom half of the hill in the late afternoon.  There are two lodges at the bottom and another small eatery halfway up the hill.  As you can see on the Mt Baker Ski area map, there are a variety of runs, from easy to . . . well, let's just say triple diamond probably doesn't fully describe the advanced runs.
When you're having a good time with a close family member or a best friend, you can't help but burst out in laughter throughout the day as you find some delightful runs, have some close calls, and shout with glee as you pass a beginner.  But the stunning beauty and majesty of these mountains caused me to pause and marvel many times during the day.
Mt Baker Ski Area Map and Website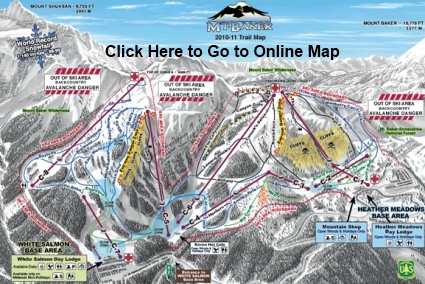 If you enjoy skiing and a great time with family or friends laughing all day, I highly recommend Mt Baker Ski area.
Last Updated on September 2, 2019 by Chuck Marunde