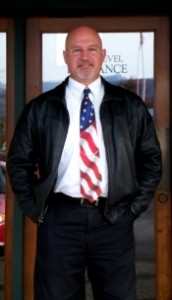 It is settled.   Our next President is Hussein Obama.   This has been one of the most intense elections America has seen, period.   We had record voter turnouts, and more passion and involvement than I've ever seen in a presidential election.   There was a lot at stake here, too, including the economy, taxation, health care, and the war, just to name a few.   Americans have been wound up tighter than a banjo spring.   So now what?
Be encouaged.   We still live in the greatest country on the face of the earth.   We are in very challenging times.   We have a war to bring to an end.   We have a banking system in shambles, a real estate market that has fallen flat on its face, and the automobile industry has crashed.   But America has seen bad times before, and we have come back again and again.
As I have written elsewhere, in every crisis there is opportunity.   Right now the opportunity is for buyers of real estate and buyers of stocks.   Not just any real estate and not just any stock.   As with all purchases, there must be due diligence and prudence.   We all know that there will be fortunes made in this next 12 to 24 months by those investing in the right real estate and the right stocks.
I strongly urge anyone who is in a position to buy real estate in this incredible buyer's market to get good advice, use a professional you can trust who has knowledge, experience, and integrity.   In my opinion, if you have the funds and pass up this opportunity to buy,  years from now you will look back with regret at missing a once-in-a-lifetime opportunity.   Our economy, our real estate market, and our political environment will never be in this perfect storm again.   Not in our lifetimes.   You may have lost money in this past year as prices for almost everything went down, especially in the stock market, but don't miss the opportunity to profit by the huge upsurge in the market that is coming.
My personal formula for success in these coming months is based on proven principles and values:   hard work, focus, diligence and persistence, creativity, positive attitude, and faith.
Practice these things, and I can guarantee you that in 12 to 24 months you will join me in saying, "Everything is okay.   Life is good."   And you will count your blessings every day.   By the way, don't wait until then to count your blessings.   Count them today and every day.   We do have much to be thankful for in this great country.
Don't let adverse circumstances discourage you.   I learned long ago that if circumstances or people were the determinants of my happiness, I would be unhappy the majority of my life.   I choose to be content and happy every day.   How about you?
Last Updated on November 5, 2008 by Chuck Marunde