Port Angeles water view property on the Olympic Peninsula is abundant, but not necessarily easy to find.  Most who own beautiful water view property do not want to sell.  The turnover is low.  This is true of Sequim water view property, too.  I stood on the beach of a gorgeous property yesterday with an incredible water view.  The sounds of the waves rhythmically crashed onto the beach as I inhaled that familiar smell of the sea, and my eyes completed the experience as I looked down the beach at the old sun-bleached logs that now lay in a twisted and apparent chaotic pile.  After a therapeutic pause, I realized this isn't chaos, but nature's ultimate order of harsh beauty.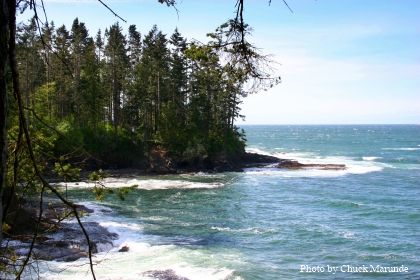 There is definitely something about the sounds and smells (and the sight) of the ocean that is soothing to the soul.  As I stood on the beach of this Port Angeles property and talked with the owner, I thought about how many people from the Seattle metro area and California, Nevada, and Arizona would kill to own a water front property like this.  This particular property still has the original 1931 house, which was built at a time when the area was considered way out in the country.  In 1957 it was purchased by a gentlemen who also purchased the adjacent lot.  He later sold it at his cost to his brother who finished raising his children there.  Imagine growing up as a child on a beach front property, building forts on the shore with sticks and logs, and being able to surf and fish right from your front yard.  Father and son added some bedrooms in the 1960s.  The concrete sidewalk still bears the hand print of the son (now an adult heir to this property).  This property is full of family memories.
This is the kind of property that retirees would love to call home, not so much the old house, but the property and location itself where a new retirement home could be built.  This is the kind of property that dreams are made of.  The owner asked if I would consider listing and marketing this property.  Of course, my answer is that I would love to, but my reasoning goes deeper than earning a commission.  To handle this property would mean passing on generations of fond memories to a new family who would begin to build their memories on one of the most stunning beach front locations in the world.  This would be a rewarding assignment.
Last Updated on July 27, 2012 by Chuck Marunde