There's a huge danger right now in real estate investing.  A gentleman from out of town asked me to take a look at his investment today.  He described it as a five acre parcel, and I subsequently learned there was a house on the property that burned down.  Part was still standing, and he told me that the building department approved the safety of the remaining foundation for rebuilding.  The owner has never seen the property and purchased it as a foreclosure in his real estate investing portfolio.  I assume it was rented, but apparently not insured.  Usually, insurance requires rebuilding, and this owner has decided not to rebuild but to just sell the five acres.
Real Estate Investing – Caution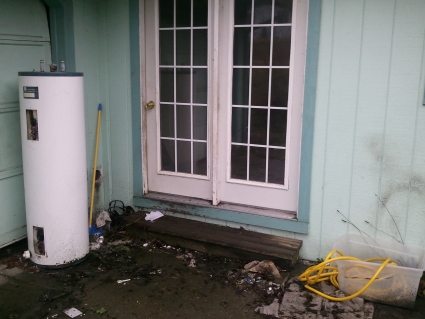 Real Estate Investing – Profitable or Not
Real estate investing can be an extremely profitable business with real estate prices so low and with such a large inventory of homes no one wants.  If you have cash and buy low and rent the house, you have a piece of real estate that almost certainly will slowly appreciate over the next 5 to 10 years.  Granted, the appreciation is not likely to start for one to three years, but if you invest for the long run, now is the time to buy.  There's no doubt about that.
Real Estate Investing – Trap for the Unwary
But there is a trap for the unwary cash investor right now.  I drove out and walked this property.  First, the road to this property is about one mile long, and it is a pot hole disaster all the way.  This is enough to turn most people away.  But as the commercial says, "Wait, there's more."  There is a nightmare at the beginning of this long driveway, a mobile home that has junk all over the yard, broken appliances, car parts, lawn mowers, and children's toys that have been outside  apparently for years.  (I was already worried about real estate investing on this road.)
On this little journey, I passed several places with abandoned broken down cars and pickup trucks, and I could see "projects" down the muddy driveways that I presume are homes built by their owners (or renters).  Now I can appreciate anyone who does their own thing and builds their home debt free as they can afford to, but this is not the impression I got.  Have you ever found yourself in a neighborhood way out in the country and felt dirty?  Or unsafe?  (I was even more concerned about real estate investing on this road, but I could not turn around until I get to the end.)
Once I got to the property and looked at the home, or what was left of it, I realized I did not want to list this property.  There's no way, not a snowball chance that I can sell this place, because the owner is going to want more than it is worth.  There was garbage all over, two abandoned vehicles, and a left over concrete foundation that no one will want.  It will take a lot of money to tear out this concrete, tear down and remove the remaining house and rebuild.  Surrounding this high spot where the house is built are wetlands.  Acres and acres of wetlands.  I could see water everywhere.
What's the lesson for real estate investing?  First, if you are going to invest in real estate in Sequim and Port Angeles now, and if you cannot be present to examine the property, be absolutely certain you have a professional who will not sell you something like this property.  I doubt I could sell this property for $20,000.  Who would want it?  Second, buy something that will appreciate and is sellable.  Third, if you retain a good Sequim Buyer's Agent, you can negotiate the best possible price.  Follow these simple rules, and you could earn huge returns on your money over the next 10 years.
Real estate investing is not for the timid.
Last Updated on September 4, 2011 by Chuck Marunde