Port Angeles real estate is selling.  I'm very pleased to announce the sale of another beautiful water view home west of Port Angeles with a stunning panoramic water view.  While this home sits up high on the hill as you can see in this photo, it is still close enough to the beach to hear the crashing waves, a sound that is music to the ears.  I wanted to share the news of this sale and a little about Port Angeles real estate just a few minutes west of Port Angeles, because most people don't compare this area with Sequim.  Of course, there are fewer properties like this available out west, and this one is definitely a diamond discovered.
Port Angeles Real Estate is Selling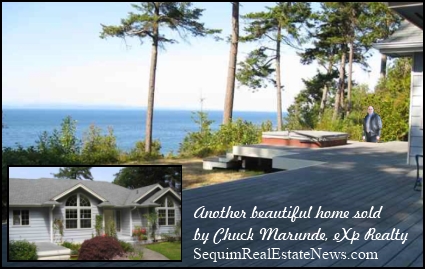 Port Angeles Real Estate Best Kept Secret

For years I have argued that this area just 10 to 15 minutes west of Port Angeles is one of our best kept secrets on the Olympic Peninsula.  But the vast majority of retirees have told me either that they want Sequim or that west of Port Angeles is simply too far out of town in the boonies.  Sequim real estate tends to get more attention than Port Angeles real estate.  And if you are a retiree who has been planning to retire in Sequim for many years, and you have fallen irrevocably in love with Sequim, then Sequim it is.
This story is about clients who looked at homes in Sequim and after seeing this home, it was the end of the search.  I represented this delightful couple from out of town as their buyer's agent.  I love being a buyer's agent, because I can give my clients 20 years of real estate law experience and many years of negotiating experience as a real estate broker.  But the greatest thing is I cost my clients nothing as the seller pays my commission, even though I work exclusively for my buyers against the seller's interests.  You've got to love that.  I do.  My clients do.
Port Angeles Real Estate a Bargain

This home has two bedrooms plus a den, which could be a third bedroom or a guest room, and two bathrooms.  It has over 1,900 square feet all on one level with a large garage attached and a shed for yard work and supplies.  It has a large kitchen with an island with a chopping block surface.  The site plan for this home was well planned.  You get the idea immediately that this home sits in the perfect place and position on this extraordinary water view lot.  The water view is of the International waterway between Washington and British Columbia, and at night you can see the lights of Victoria across the Strait.   This is something many do not know about west of Port Angeles–it has majestic water views.  In this photo, I'm standing near the hot tub.  You could sit in the hot tub with a glass of wine and look out at one of the most beautiful expansive views of the ocean anywhere on the west coast.
This home was listed at $399,000, and it sold for somewhat less, but can you imagine what it would sell for on the California coast?  Port Angeles real estate is one of the best kept secrets on the west coast so please don't tell anyone else.
Last Updated on September 4, 2011 by Chuck Marunde