Sailing in Port Townsend is pretty popular, and on a nice day you can hardly count all the boats sailing in Port Townsend Bay and Puget Sound. It was late in the afternoon when I could not resist taking this photo of one of the most impressive little sailing boats I've seen in the Bay. Port Townsend is known for it's maritime activities, and it's the home of the Wooden Boat Foundation.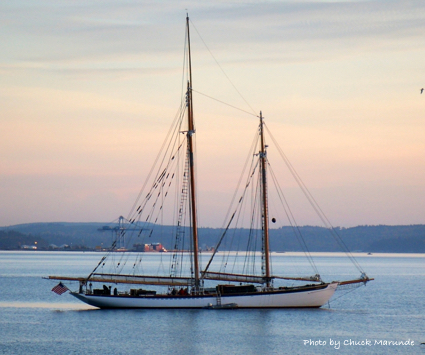 Sailing in Port Townsend
Nearby Port Hadlock is the home of the Northwest School of Wooden Boatbuilding. [Read my earlier article on Wooden Boats.]  If you have thought about sailing in Port Townsend, I recommend browsing the Wooden Boat Foundation. The annual Wooden Boat Festival attracts over 300 boats, a lot of festivities, good food, and music. Many of us who live in Sequim love to drive down to Port Townsend for a weekend day or an afternoon and just walk the docs, enjoy one of the quaint little restaurants (like Doc's Marina Grill), or walk through town to watch people. Just do it, and you'll see why it's so entertaining.
Sailing in Port Townsend and Having Fun
Read more articles at Port Townsend. Whether you want to pursue sailing in Port Townsend or just enjoy this delightful waterfront community with a rich maritime history, come and visit soon. If I'm there, I'll buy you a latte.
Last Updated on September 22, 2019 by Chuck Marunde