Sequim is a small rural town, and a major retirement area.   As with many small towns in America, we keep having a discussion on the pros and cons of the BIG BOX STORES moving here.   You know the arguments by now.   "Small businesses can't compete.   We don't want Walmart in our town."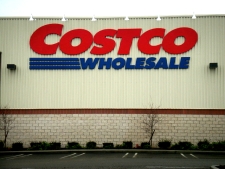 Well, Sequim has become the destination for most of the big box stores in just the last three years or so, and guess what?   They are still coming and building, even now in this slow economy.
Of course Walmart built a big store, but let's be honest.   Walmart provides a great service with a larger inventory than local stores could manage, and Walmart brings a lot of money into the community primarily through all the locals they employ.
We've had a Staples store for years, but Office Depot moved in recently.   We'll see how they do.   Frankly, they don't seem very busy.   Hardly anyone every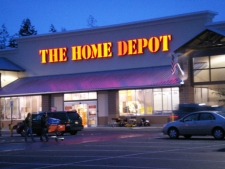 there, but these big box stores are typically prepared to suffer losing money for a few years before the demographics improve enough for them to survive.   That's largely what all this is about for these big box stores–building in an area with great projects for future demographics, and Sequim has the demographics.
And Costco, which has been here for about a decade now, is very popular for the bulk values they give all the locals.   If locals didn't like Costco for moving into town, why is the stor

e packed seven days a week?   We love this store.
Home Depot is a great store, and well managed, but it also employs a lot of locals, and all of this brings more money into the community.   And don't think the city of Sequim isn't absolutely ecstatic about these big box stores buying commercial property here and bringing their construction and businesses here.   This amounts to a lot of local tax dollars, which also benefits all of us who live here.
Pet Depot is a hot store here, because we have so many pet owners here, and this store has got to be one of the best managed and organized Pet Depots in the entire chain.   Their fish department is the best I've ever seen for the organization and symmetry of the fish tank displays.
Of course, Sequim has a Starbucks!   In this state, I don't think you are officially a city if you don't have a Starbucks.   The Sequim store is apparently doing great.   They sure are busy all the time.   Unfortunately, Starbucks opened a store in Port Angeles a little over a year ago, and they recently had to close.   Not enough business.   That's interesting, because the official population of Sequim is only 4,000, and Port Angeles claims 25,000.
Under construction right now are two more big box stores, Discount Tires and Schuck's Auto Parts.   W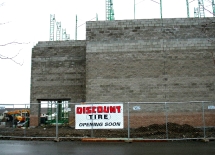 hat do these big franchises know about Sequim?   They have spent fortunes on demographic studies to pinpoint the best and most promising places to build.   That's Sequim.
Courtesy of SequimRealEstateNews.com.
Last Updated on January 1, 2009 by Chuck Marunde