The Sequim Casino, otherwise known as the 7 Cedars Casino, is hosting mixed martial arts (MMA) four times a year, and people travel from all around the region to come and be a part of the festive entertainment.  Mixed martial arts has become one of the fastest growing sports in the country, and is surpassing boxing as the entertainment of choice among fight fans.
Sequim Casino MMA
This story has a personal note to it, because my son, Bristol Marunde, is a professional MMA fighter and fight promoter.  While Bristol lives and trains in Las Vegas with famous world champions like Randy Courture, Victor Belfort, Forrest Griffin, and others, he also promotes and organizes the fights at the Sequim Casino.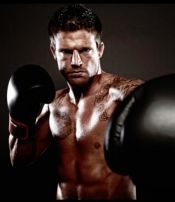 I thought I might just do something a little different on this blog and share (brag?) about my son Bristol with this highlight tape of his victories.  I know fighting and mixed martial arts is not for everyone, but some might enjoy this entertaining little video of Bristol destroying his opponents.  [I know ladies, the language in MMA sounds so violent.]
Sequim Casino Fighter
The next MMA fights at the Sequim Casino will be March 5th, which is a Saturday night.  Of course, I'll be there taking photos.  I can't stop now.  I've taken thousands of photos of my three sons and my daughter since they were all born in various athletic activities.  My oldest was a professional strongman, and I traveled around the country taking photos of him and encouraging him.  I've done the same for Bristol and my basketball playing son, Brady.
I'm not a fighter.  Unlike my son who does his negotiating in the cage, I do my negotiating for my clients on real estate transactions.  Same thing, just a different venue.

Sequim Casino
I commend the Sequim Casino for a well run operation.  The entertainment is well organized, and the Sunday buffet is great.  If you're in the area, come and check out the Sequim Casino.

Last Updated on September 4, 2011 by Chuck Marunde