Sequim Dress for Less is under construction right now.  The national recession has not hit Sequim as it has most areas of the country.  We have had many big box and discount stores move into Sequim in the past decade, and we all know those big corporations do extensive demographic studies before they commit to an area.
Sequim Dress for Less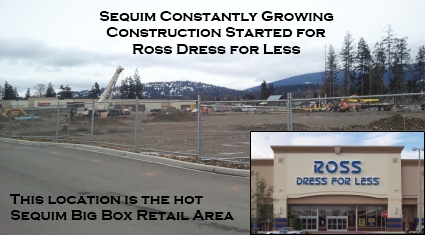 Sequim Dress for Less and Other Stores
This location has been the hotbed of big box activity, which is the west end of Sequim.  While the east end of Sequim recently added a beautiful new hotel, The Holiday Inn, the west end of Sequim over the past decade has added Costco, Home Depot, Petco, Starbucks, Discount Tire, WalMart, Office Depot, International House of Pancackes (IHOP), Applebees, Big 5 Sporting Goods, Schucks Auto Parts, Jack-in-the-Box, Walgreens, Rite Aid, Arbys, and now Sequim Ross Dress for Less.
Sequim Dress for Less Not a Guy Thing
Admittedly the Sequim Dress for Less is not a guy thing.  This store is a girl store, no doubt about that.  I have a 14 year old daughter, and I know she is looking forward to shopping at Ross.  It is known as a discount clothing store.
Sequim has had other stores before this decade, and Safeway and QFC have been here for as long as I can remember.  Penney's has a small store as does Sears.  Of course, some of our finest restaurants are family owned and are not chains.  And we have one of the best organic health food stores in the region, Sunny Farms.
Sequim residents are fortunate that Sequim has such a stable economy.  This translates for homeowners and retirees in the real estate market, since it has given us more of a solid base and more stable real estate prices than many areas of the country.  This new construction of the Sequim Dress for Less is another example of the strength of our local economy.
Last Updated on September 4, 2011 by Chuck Marunde