I want to introduce you to two (2) small horse ranches for sale in the Sequim area.  One is a few miles outside of Sequim, and one is halfway between Sequim and Port Angeles.
This first horse property is on Woodcock Road and has a panoramic mountain view that is absolutely beautiful.  As part of the  homeowners' association, there is an 18 acre wildlife refuge and a community beach with a private trail for this community only.  This property is  fenced and perfectly designed for horses.  There are three bedrooms, two baths, oak hardwood floors, custom quality construction throughout, an attached 2 car garage,  a two horse mini-barn with it's own paddock, 3 acres of fenced pasture, a complete piped irrigation system with a commercial sprinkler included, all on 4.77 acres.  There is RV parking on-site.  HOA dues  are only $30 per year!  This is a beautiful home on a gorgeous property with a rare view of the mountains in Sequim.
To see the full MLS data sheet and more photos, go to Sequim Horse Property for Sale.
The second horse property is on Gellor Road off Blue Mountain Road.  This is almost exactly between Sequim and Port Angeles.   This is an incredible 5 acre horse ranch with free access to miles and miles of mountain trails (Dept. of Natural Resources property), a loafing shed with hay storage, a riding arena, a pond, and a little greenhouse. This country home has a rustic look with vaulted ceilings, 4 bedrooms, 2 baths, large living room, a dining room plus a breakfast bar, a great pantry, a back-up generator, wireless Internet, and a detached 2 car garage with a workshop and bench.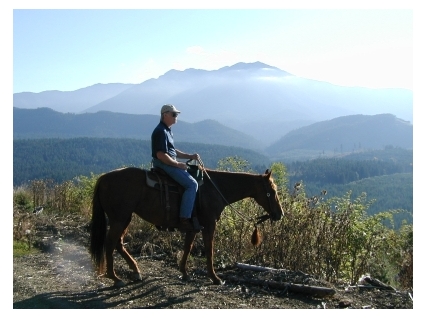 For detailed MLS data and more photos, see Sequim Horse Ranch for Sale.  By the way, there is an additional five acres adjacent to this horse ranch that could be purchased if you want 10 acres.  You will not find properties like this anywhere in the mountains like this.
Last Updated on February 24, 2010 by Chuck Marunde