The famous Sequim Irrigation Festival starts today and events are scheduled throughout the weekend.  The Sequim Irrigation Festival is 117 years old, which makes this the oldest continuing festival in the entire State of Washington.  There are many fun events, including a Sequim Irrigation Festival Pageant, Arts & Crafts Fairs, Merchants' Street Fair, Sequim Open Air Market, the Sequim High School Operetta, the Logging Show, a Fireworks Show, a Kids' Parade, a Sequim Irrigation Festival Grand Parade, a Car Show, a Carnival, and the Jesse Marunde Memorial Strongman Contest.
Sequim Irrigation Festival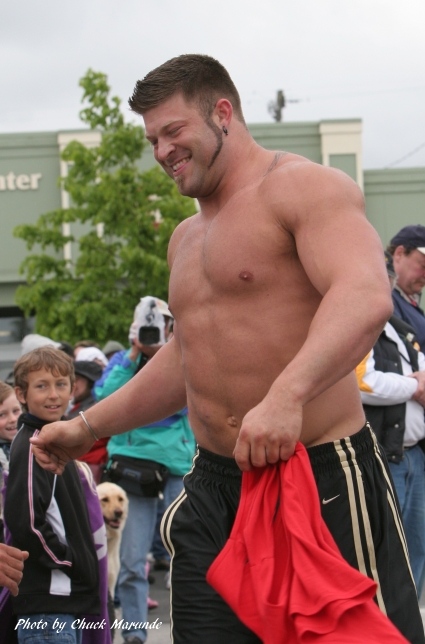 Sequim Irrigation Festival Strongman Contest
I have many photos of Jesse Marunde flipping cars, pressing logs, carrying a Harley Davidson, and squatting massive weights, but this photo is one of my favorite photos of Jesse.  He was doing what he did best–encouraging young boys and girls to be their best and sharing his passion for life.  In this photo you can see the joy in his face as he greeted kids at his last Sequim Strongman event. 
The Strongman contest is in Jesse's memory.  Jesse became Internationally popular as a young Strongman because of the new techniques he brought to the sport of Strongman, including his unique application of some Olympic lifting techniques, especially to the overhead log press.  He also was very charismatic and was the first professional strongman in the world to play to the audience.  Fans absolutely loved him.  He once spent two hours in Europe giving people his autograph after an event.  Jesse's goal was to become the strongest man in the world, and he almost did.  He came in second in the World's Strongest Man Competition in Chengdu, China before he died here in Sequim of a sudden heart attack while working out in his gym.  Jesse was my son, and may I say as a father, I was damn proud of him.  But my pride was not just because he was a great athlete (6'5″ and 320 lbs of muscle), it was because he was a man of good character, a disciplined hard worker, and because of his love and generosity to everyone.  He was my son, but he was also my best friend.  As you can imagine, having grown up in Sequim and becoming world famous, he was the pride and joy of Sequim.

This weekend the Sequim Irrigation Festival celebrates Jesse's memory with strongmen coming from all over the country, including Karl Gillingham of Minnesota, Kevin Nee of Boston, Brad Dunn of Orlando, Corey St. Clair of Columbus, Grant Higa of Maple Valley, Zack McKarley of Ellensburg, and Nate Bollin of  Sequim.  The strongmen events will include the Keg Toss over a 15ft bar, the Giant Dumbbell Press Medley, the Axel Press Last Man Standing, and a 330# Stone Over Bar for Reps.  This is great entertainment for everyone and a good photo opportunity.

Sequim Irrigation Festival Events
You can check out the schedule of events from the Festival website at Sequim Irrigation Festival.
Last Updated on May 11, 2012 by Chuck Marunde