In this article I compare Sequim listings (active listings) in the current inventory to the homes sold in that same price range.  This is important for sellers to know.  Here's why.  If there have only been a small number of Sequim listings sold in a particular price range, it makes a big difference if there are a large number or a small number of active listings in that same price range.  A large number of active listings with a small number of sales means many DOM (days on market).  And a buyer's market like this plays against the sellers getting the price they would have expected in a better market.  Click your mouse on this chart below to see an enlarged version.
Sequim Listings vs. Sequim Homes Sold in 2011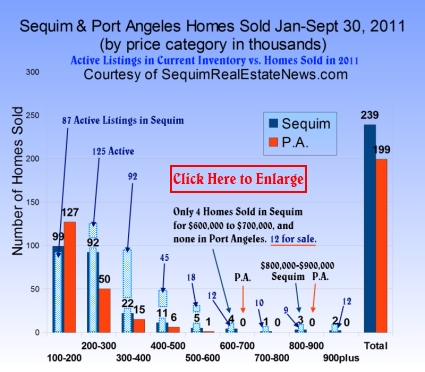 Sequim Listings in Active Inventory
In a prior article I included this chart with Sequim listings sold, but in this chart I added the active listings in the inventory.  It's a busy chart, but I think sellers and buyers will find this information very helpful.  Here's how to read this chart.  In the price $500,000 to $600,000, there have only been four sales in Sequim in all of 2011 (the first 9 months), and there are 12 Sequim listings actively for sale right now.  This translates into a three year inventory based on sales this year.
Sequim Listings in Higher Price Ranges
You can see that in the higher price ranges this difference between hard sales and the inventory is more pronounced.  Above $900,000, only two have sold and there are currently 12 homes for sale above $900,000.
What does all this mean?  It is proof of something we already intuitively know–that luxury homes are more difficult to sell in a small real estate market like Sequim's.  I would add that selling luxury homes is also different than selling homes in the lower price ranges.  Marketing to buyers of foreclosures or short sales or affordable manufactured homes is a different marketing system and reaches to a different segment of the buyer market than buyers of luxury homes.

These are challenging times.  Sequim listings are selling, but it takes much more to sell a home in this recession than it in 2005.
Last Updated on October 27, 2011 by Chuck Marunde