This Sequim luxury water view home is beautiful outside, but the floor plan inside and the kitchen and master bedroom are precisely what so many retirees want now.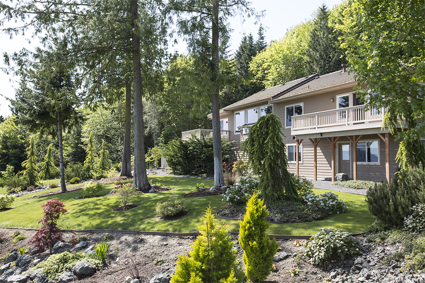 Luxury Water View
The very first thing you undoubtedly want to do is see more larger photos, and you can right here at Sequim Water View Home. Be sure to click on one of the three thumbnail photos, and you will get more photos.
Here's what so many buyers retiring to Sequim tell me. They want a modern home built with quality, preferably hardwood floors, a modern large kitchen, nice stainless steel appliances with a gas (propane) cooktop, and an open floor plan between the kitchen, dining and living rooms. They also like the laundry room near the kitchen or between the kitchen and the master bedroom. They love a large master bedroom, a walk-in closet with a skylight or window, a modern master bathroom with double sinks and both a shower and comfortable soaking tub. Of course, it would be ideal if most of these rooms had a water view.
They like the garage attached with an easy entry into the kitchen for carrying groceries. They also like a den on the main floor. In fact, they want all of this on the main floor, all one level. Having a second floor is okay for many buyers, because the guest rooms can be on that floor for kids and grandkids, but they do want to be able to live all one one floor. 
They also want water available outside for all the landscaping without having to worry about water restrictions. A year round irrigation ditch or a creek would be the perfect solution. A modern electric forced air heating and cooling system with a heat pump is ideal for the Sequim climate and the most efficient way to heat a home in such a mild climate.
Water View of the Strait of Juan de Fuca
Most buyers would love some privacy if they could find the perfect location. And if there is one last and major feature almost every retiree would love is a water view of our beautiful Strait of Juan de Fuca with the islands and Mount Baker on the horizon.
When I write that this description is what most buyers want, I am being totally sincere. This Sequim water view home just happens to have them all. If you would like to view this home, call Chuck at 360-775-5424. Meanwhile, check it out at Sequim Water View Home. Update: This home is no longer on the market.
Last Updated on September 7, 2019 by Chuck Marunde