Kayaking in Freshwater Bay is one of our best recreational activities on the Olympic Peninsula. It's only a 30 minute drive from Sequim and 10 minutes from Port Angeles. Freshwater Bay is a sheltered bay with an excellent boat launch, and the clearest pristine water you'll see kayaking anywhere.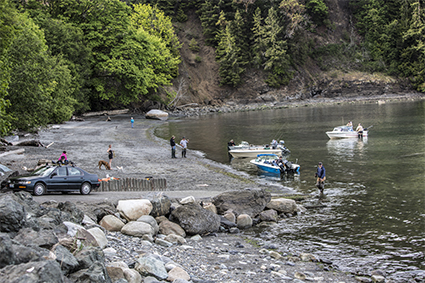 Kayaking for Fun
Kayaking is great for exercise, but it's also great for the mind and spirit. There's something about kayaking that is therapeutic. You can't think about work when you're communing with nature in a kayak. Stress just drains away, and you can't help but experience the pleasure and pure enjoyment of kayaking.
Kayaking on Freshwater Bay
I took the photo above yesterday afternoon. I wish you could look at this photo and smell the fresh breeze coming off the saltwater and hear the gentle breaking of the waves. With three or four boats, this is about as crowded as it gets in Freshwater Bay on a beautiful afternoon. But there are many bays and rivers where you can enjoy kayaking from Port Townsend to Sequim to Port Angeles. Across the Strait of Juan de Fuca from Freshwater Bay is beautiful Victoria, B.C. 
Kayaking is a great recreational activity, because the physical part can be as strenuous or as relaxing as you make it. One thing for sure, we do have some of the best natural resources on the planet here, and Freshwater Bay is one of them. 
Last Updated on September 7, 2019 by Chuck Marunde