Buyers searching the Sequim MLS are using the special features at Sequim4Sale.com, and they are loving these favorite buyer searches. If you want a single link to find all Sequim Water View Properties, or Sequim Foreclosures, or Sequim Horse Properties, or Sequim Homes with Barns, or Sequim homes with guest homes, and so on, you'll love these special links that take you to all the available listings with a single click of your mouse. You'll find Sequim MLS links like these:
The Sequim MLS can be searched online from many real estate broker sites, but there are some that do not have accurate information, like Zillow, and others that are not easily navigated. This site was designed and programmed just for buyers.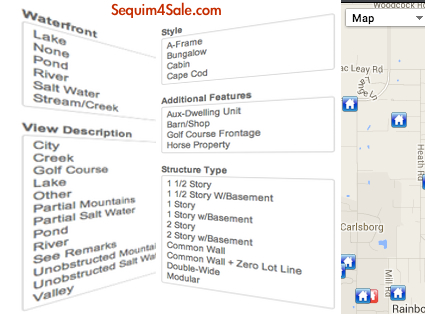 Sequim MLS Advanced
You can also create your own shortcuts to links with your own parameters. You'll find the advanced search options at Sequim4Sale.com and then go to the Advanced search option. You can also set up email alerts for new listings that fit your search on what I believe is the best Sequim MLS site for buyers.
Last Updated on September 20, 2019 by Chuck Marunde