Looking for an accurate Sequim MLS? You might want to watch these Sequim MLS videos. If you're searching the Sequim MLS for homes, there's a good way and a chaotic way. First, many people are using Zillow and Trulia to search for homes in Sequim, but both of those sites are full of homes that are not for sale, that were sold long ago but still show up as though they are for sale, and there are many data mistakes on those sites. I understand the sites are pretty and have some nice features, but I'm just saying those sites are objectively and most definitely NOT accurate if you are searching for homes in the Sequim and Port Angeles area. Realtors all over the U.S. know this, but consumers seem to ignore it and continue to use Zillow. If you want an accurate Sequim MLS site, read this article in full. I recommend a Sequim MLS site (which includes Port Angeles and all of Clallam County) that was built and programmed precisely for retirees moving to the area. It is 100% accurate, easy to navigate, and has nice features to save your favorite homes. I've created six special Sequim MLS videos to help you in your home search.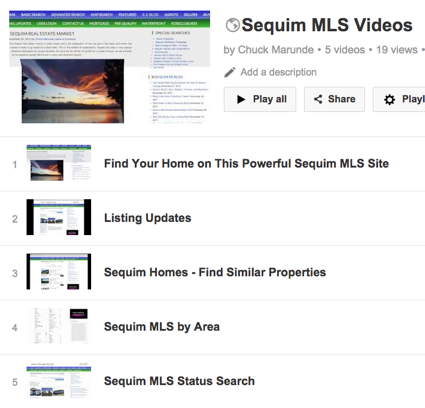 Sequim MLS Videos – The Series
I recommend watching these videos in order from the top to bottom. Just click on the image above, and then hit the "Play All" link, and the videos will play one after the other. The first video walks you through the whole site with an overview of it's powerful features that make finding your home easy and enjoyable. The second Sequim MLS video shows you how to search and filter the entire inventory to identify the best of the best homes. The third video shows you how to get listing updates on the type of home you want. The fourth video shows you a great little feature to find similar homes once you've found one you really like. The fifth video will help you search specifically by local areas around Sequim and Port Angeles, and the sixth video will help you quickly identify whether a home is pending or still available. Almost all MLS sites show pending listings as active, and that can be confusing.
Sequim MLS Videos Help Filter and Save
These Sequim MLS videos will help you use your time efficiently when you come to look at homes. You will be able to filter homes in the inventory, save the ones you want to see, and over the weeks and months before you arrive, you can get updates and delete the ones that have sold, and you can add or delete other homes from your list.
When you come to view homes that are on your short list, you will be organized and not waste any time on homes that are sold or do not fit your personal preferences. This is a wonderful way to find the best home in the best areas at the best price, and these Sequim MLS videos will help you use Sequim-Homes.com very efficiently. 
Your Sequim MLS.
Last Updated on September 22, 2019 by Chuck Marunde