Buyers who want to search Sequim real estate listings online have many options.  Years ago I wanted my clients to have a powerful Sequim real estate listings search tool that was easy to navigate, so I had my programmers create one according to my specifications and connect it to both the Olympic Listing Service and the Northwest MLS databases.  Compare the result to the other franchise template MLS sites, and you can see why clients love this site.  But I wanted more for my clients.
Sequim Real Estate Listings
I instructed my programmers to make this site absolutely free and with no requirement to register if people just wanted to search for properties.  I wanted them to be able to search 100% of all the listings in both the OLS and the NWMLS.  I also asked my programmers to make this MLS search site easy for clients to be able to save their property searches so they can filter through many listings and keep an organized list of the properties they may want to see when they come to Sequim.  And lastly, I wanted clients to be able to have new Sequim real estate listings emailed to them based on their search parameters, and I wanted them to be able to edit and change their searches.  In other words, I wanted my clients to be in total control of their property searches.

Sequim Real Estate Listings – For Buyers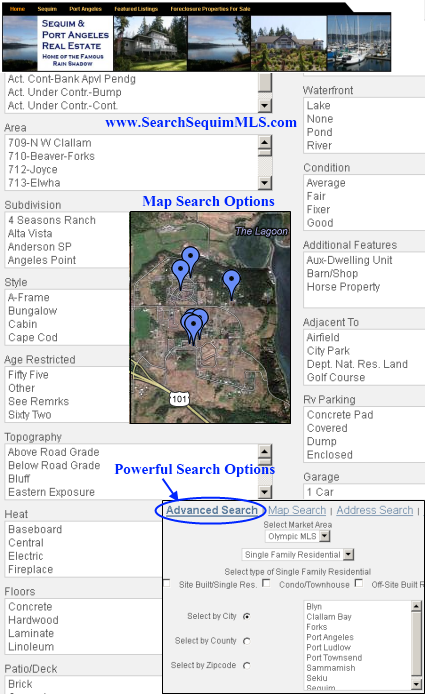 Sequim Real Estate Listings in the MLS Online
Click on the image above to go directly to Sequim real estate listings.  Notice that in the "Advanced Search" you can include very specific search parameters, including waterfront property, mountain view property, and a detailed list of options.  I'm always working to improve the tools and services I give my clients.  Having just checked out all the other local MLS search sites, I can tell you this one is the most powerful and the easiest to navigate.  I hope you find this Sequim real estate listings site useful in your search.
Last Updated on May 31, 2012 by Chuck Marunde