This Sequim water view home may have the ultimate luxury kitchen in Sequim.  It is beautiful, and that may be obvious, but it has more features built into this kitchen than meets the eye.  In this article, the owner and designer describes what she had in mind when this extraordinary kitchen was but a twinkle in her eye.  I'll let Donna tell her own story of how this Sequim water view home with this luxury kitchen came to be.  Then you'll want to see the special video with the guided tour by the owners themselves.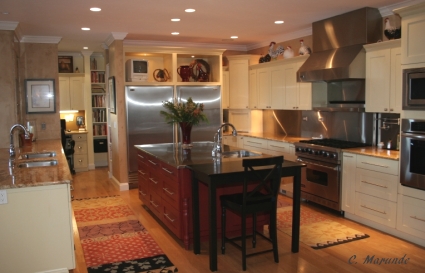 The True Story of a Sequim Water View Home and Luxury Kitchen
When we moved to Sequim, my husband Jerry, knowing my love for cooking, said to me, "Put in all the bells and whistles now, because this may be your last chance to have your dream kitchen."  Of course, that was like turning a child loose in a candy store.
I started by writing down all the things I would like to have in my new kitchen.  First, I wanted  functionality and a beautiful kitchen.  We have an open floor plan, so the kitchen needed to present itself well and be well integrated into the rest of the home.  I have seen many beautiful kitchens which are not functional and poorly designed.  With the money that would go into this kitchen, I wanted to make sure the investment was worth it.
Sequim Water View Kitchen Design
For my style of cooking,  I divided the kitchen space into 3 zones which are separated by a center island.  Zone 1 is for clean up, Zone 2 for preparation, and  Zone 3 is the center island which can be used for additional preparation and serving, and we often use it as a buffet.  Should you be lucky and have a husband like mine, he will help with clean up,  stacking dishes into a commercial Hobart dishwasher in Zone 1,  while you'll be happily preparing and cooking in Zone 2, which means you stay out of each others way!  Oh, did I say Hobart dishwasher?  Yes, a 90 second dishwasher.  That's 90 seconds, not 90 minutes for one load to complete like most residential dishwashers.  The walk area around the center island is 40″ wide, allowing easy mobility. All lighting is well placed with dimmers, making cooking and spending time in this space relaxing, and with no glaring lights, no squinting, and no tired eyes.
The Wish List for the Ultimate Sequim Kitchen
32 Fully Extended Drawers

9 Cabinets

2 Pull Out Cabinets

2 Corner Swivel Cabinets

Totaling 45 in all
Stainless Steel Appliances with Stainless Steel Center Island: 
2 Separate Sub Zero Appliances, 1 Full Freezer and 1 Full Refrigerator

6 Burner Gas Viking Range and oven, with SS Hood, Shelf with Warmer

1 Electric Thermador wall Oven, with various control selection, Proofer,

Roasting, Baking, Convection

1 Swivel Faucet by Viking Range for supplying water to large pots 

3 Stainless Steel Sinks, 2 Large and 1 Extra Large
My goal was to have a commercial like kitchen, but with soft edges, which comes from the cabinets and color choices.  Napa Valley Color Selection by Hertco Cabinets was the color of choice for the cabinets with granite counter tops.  Fully extended drawers are a must.  I have never had FED, and thought they would not work as well as cabinets. WRONG!  Having them has made my life in the kitchen so enjoyable, no more bending, or getting on the floor for that one platter in the back of the cabinet.  As previously mentioned the floor plan is quite open which means the kitchen in some ways becomes a part of the great room and must look as though it belongs.
The Ultimate Kitchen in this Sequim Water View Home
Even if you are not a cooking enthusiast, a well planned kitchen can bring joy to you and your home.  Friends and family will love to visit and will feel comfortable in this space.  The downside is they may not want to go home, but we do love entertaining.

Thank you Donna for sharing your kitchen and your passion to create the ultimate Sequim kitchen.  For those who would like to watch the guided video tour of this beautiful Sequim water view home, go to Sequim water view video tour.
Last Updated on April 16, 2012 by Chuck Marunde