Are you looking for the ideal Sequim waterfront home? As of today, there are only four in our local MLS. This Sequim waterfront home in this photo was just sold, and it was a rare find, because it is right on the beach with no bluff.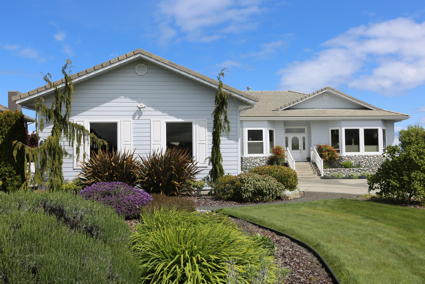 Sequim Waterfront Homes
Here is the complete list of Sequim waterfront homes for sale: Sequim Waterfront Homes in MLS. I've shown all of these homes, so if you have any questions about any of these, you can simply email ChuckMarunde@gmail.com or call me at 360-775-5424. As you know, it's hard to get an accurate and complete feel for a property from the MLS photos, which are limited. 
Sequim Waterfront Properties
There are 10 Sequim waterfront lots for sale as of today, Sequim waterfront lots. Whether you are looking at Sequim waterfront homes or lots, you will find these are either "no bank," "low bank," "medium bank," or "high bank." The high bluffs are as high as 150 to 200 feet. Most of the medium to high bluff properties do not have beach access. The home in this photo is right on the beach and has full beach access, which is one of the reasons it is a rare find.
You can expand your Sequim waterfront search outside the area to cover all the islands and the shorelines all the way to Seattle from Sequim at Luxury Water View Homes.
Last Updated on September 7, 2019 by Chuck Marunde