Which Sequim real estate office is one of the busiest with an agent who represents more buyers (in sales volume) than any agent in the county? You might not guess. It's not one of the big national franchises, and it's not an office with a large bricks-and-mortar building. The correct answer would be a Sequim real estate office by the name of iRealty Virtual Brokers, also registered as Sequim & Port Angeles Real Estate. Congratulations are in order for Chuck Marunde, who is the number one Buyer's Agent in the area. Here's the hard data below in this graphic, but why is this significant for buyers like you? There's an important reason we share all this.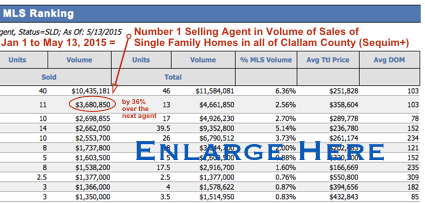 Busiest Sequim Real Estate Office
Buyers from all over the U.S. have been selecting Chuck Marunde as their Buyer's Agent, and since buyers are doing a lot of research online, that's a significant endorsement from a lot of people. You can read more about his background at Sequim Real Estate Office. Learn about Chuck's personal side at Who is Chuck Marunde? To find out how Chuck can help you, we recommend you email ChuckMarunde@gmail.com, and talk to him on his direct phone line, 360-775-5424.
Sequim Real Estate Office – Hire Way in Advance
We urge you hire your Buyer's Agent (covering Sequim, Port Angeles, and Port Townsend) well in advance of coming to look at homes. Remember, you don't need to hire the biggest Sequim real estate office–just the right buyer's agent for you.
Last Updated on September 7, 2019 by Chuck Marunde