Sequim waterfront property is in demand, and we do have some beautiful Sequim waterfront views.  From east of Sequim to west of Port Angeles are beachfront, low and medium and high bluff, and panoramic water views from the mountains.  Waterfront properties that would be one to three million dollars in California or on the Seattle waterfront may only be $200,000 to $500,000 here.  But we are also away from the hustle and bustle of the I-5 corridor.  Sequim is known as a Rain Shadow and as a retirement paradise.
Sequim Waterfront
Sequim Waterfront Video
This Sequim waterfront video is a vignette of the water views here, and I hope you enjoy the video and photos. I enjoyed taking these photos and videos over a period of several years.
Sequim Waterfront Properties for Sale
How many waterfront and water view homes are for sale from Sequim to Port Angeles?  Of course, the answer depends on the parameters you select for your Sequim MLS search, but here are some of the active listings for your viewing pleasure:
Sequim Waterfront Homes for Sale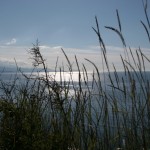 One of the challenges buyers have when they are searching for waterfront property is that Realtors do not enter their listings with the same standards, and the Sequim MLS is not programmed for precise searching of similar water views.  Let me explain this.  When a Realtor enters a listing with a water view in the MLS, he or she has a couple of options when choosing parameters.  The MLS gives us the ability to select from two major categories.  Under the category "waterfront" are these choices:  lake, none, pond, river, salt water, and stream.  Under the category "views" we have "salt water" and "salt water and mountains."  If you search for "salt water" property, listings will not show up if they have been marked by the listing agent only as "sale water and mountains."  In addition, Realtors can select multiple combinations.  This can make comparisons almost impossible for someone searching the online MLS from out  of state.  This is a fundamental programming glitch or shortcoming in the MLS in my opinion.
In addition to these multiple possibilities, Realtors define water views differently.  What I would consider a "peek-a-boo" water view might show up on another Realtor's listing as a "salt water view."  No two water views are the same, but the way listings are entered is not always the same either.
Between the different MLS parameters and the different ways Realtors choose to enter a listing, you can imagine that it is very hard, if not impossible, to do an accurate comparison of water views by searching the Sequim MLS online.  One thing I do for clients is go take photos and sometimes videos of a water view so they can really narrow their search down before they arrive.
I hope you enjoy my Sequim waterfront video.
Last Updated on September 4, 2011 by Chuck Marunde