The Dungeness River is running high right now through Sequim, but that is normal as the spring runoff from the mountains works its way to the ocean.  The Dungeness River flows north 30 miles from the base of Mount Deception in the Olympic Mountains to the Strait of Juan De Fuca a few miles north of Sequim. Click on this photo to see an enlarged image of the Dungeness River.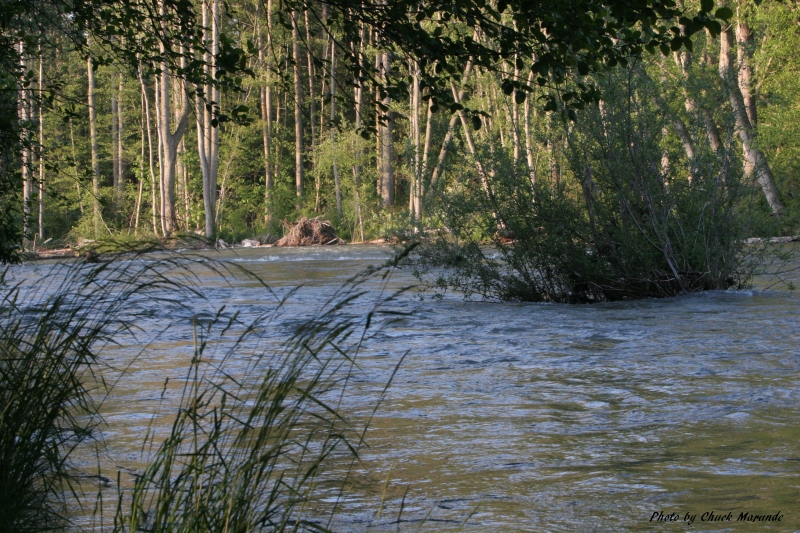 Dungeness River
Fishing, boating, kayaking, and swimming are some of the river activities of locals on the Dungeness.  The Dungeness River Audubon Center at Railroad Bridge Park has a nice facility and you can see more from their website at the Dungeness River.  Sport fishing for Salmon and Trout rules are available at Dungeness Fishing.
For kayaking fans, the extraordinary Elwha River is the hot kayaking river on the Olympic Peninsula.  "By far the most popular on the Olympic Peninsula, the Elwha River trip is a great way to spend an exciting few hours within the scenic beauty of Olympic National Park.  The Elwha River is a Class II+ whitewater river in the heart of the Olympic Mountains.  It offers plenty of excitement without being too hair-raising.  No caffeine needed here!  We pass through a heavily forested valley with breathtaking views of snow-capped peaks and Carrie Glacier.  You should expect to spend approximately 2 hours on the water, depending on water levels.  Group rates start at 8 or more."  This quote is from Olympic Raft and Kayak.
Up in the mountains the Dungeness River gets pretty darn wild in this spring runoff, but in the Sequim Valley it has settled down as it lazily finishes its marathon to the ocean.  The Dungeness River is a beautiful River adding to the natural aura of the Sequim valley.
Last Updated on June 17, 2019 by Chuck Marunde