There's something about a red barn that catches the eye immediately.  A red barn always looks good, and any other color would just seem wrong.  Sequim and Port Angeles has a heritage going back over a century as an agricultural area with grazing cows, dairy farms, fields of hay, and barns.  Many of these barns are 100 years old, and while we've lost many over the years, some have been maintained and are still standing strong.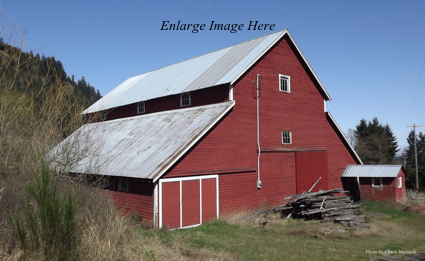 Red Barn Hard to Find
It's not easy to find a farm for sale or even a mini-farm on the Olympic Peninsula.  It's even harder to find a property for sale with a grand old barn.  Such properties are extremely rare, but there also are not very many buyers for such properties. Farming is generally for the big boys, and mini-farms can be expensive.  For a 10 to 20 acre mini-farm, even without a house and barn, it's hard to get started in the Sequim and Port Angeles area for less than $400,000.  Here's a list of 80 properties listed in the MLS that have the potential to be mini-farms:  Sequim Farm Properties.
There are three I especially would mention.  The first is a horse ranch with a gorgeous barn, although it's not a red barn, and that one can be seen at:  Port Angeles Horse Property.  The second is up in the hills above Sequim on 15+ acres and you can see that one at:  Sequim Horse Ranch.  The third is a 17 acre ranch I lived on 16 years ago, and this one has a big beautiful barn that has been well maintained.  You can learn more about this one at:  Sequim Horse Property.
Last Updated on September 20, 2019 by Chuck Marunde