There are many Sequim contractors and home builders.  In the good years, it is a great and profitable business.  During the recessions, home building is one of the hardest hit industries.  But one of the greatest untold stories is the story of how the vast majority, I repeat "vast majority," of home builders around the country build to look good but not with quality construction beneath the surface.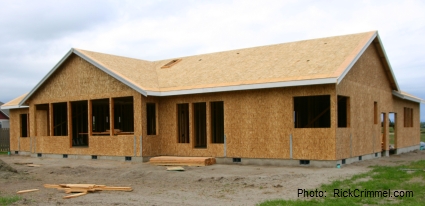 I call this the greatest untold story, because the vast majority of consumers don't know how building shortcuts with material and labor effect the quality and long term comfort of their home.  One could write a book on this subject, and maybe I will (but consumers probably wouldn't read it until they had already hired the wrong builder), but for now let's just touch on one simple issue, and there must be a hundred like this one.
A client recently asked custom home builder Rick Anderson about the risk of sub-flooring getting wet and swelling, which could eventually cause problems with the flooring, like creaking.  Rick is building a home for clients from Henderson, Nevada in a peaceful little valley not far from the Dungeness Spit in Sequim.
The vast majority of contractors will save money wherever they can, including sub-flooring.  Rick explained to his client that if it rains on the sub-flooring before the house is closed in, not only does he dry the interior thoroughly with heaters before covering the floors and framing (believe it or not some builders do not thoroughly dry the interior), he also spends the extra money out of his pocket to install sub-flooring that does not swell at the seams even if it does get wet.  Ever wonder why your floor squeaks?  This is why, but Rick Anderson's homes do not have squeaky floors.  Not even after 10 or 20 years.  Again, this is not something consumers know about, and your average builder will never raise it.
If you want to buy a lot to build your home, may I boldly suggest you hire a buyer's agent with experience (that would be me, thank you), and a home builder who doesn't take short cuts when you're not supervising?  That would be Rick Anderson, a Sequim Home Builder.
Last Updated on July 27, 2012 by Chuck Marunde