Rick Anderson is building a custom home for Rick and Marilyn Crimmel in Sequim, Washington, and construction is proceeding nicely, and the pile of lumber is being transformed into something beautiful.  On his photo webiste, RickCrimmel.com, Rick wrote, "After many years of visiting beautiful Sequim, WA, we moved here. Since we could not find the right house in the right location, we decided to build the right house in an area where we always dreamed of living. I decided to post photos of the construction progress so that anyone, who may be interested, can see what all is involved in building a house. The most current photos will appear on page 1. Our Realtor is Chuck Marunde, who has a real estate blog at:
Sequim Real Estate and our builder is Rick Anderson of Anderson Homes who has a nice website at: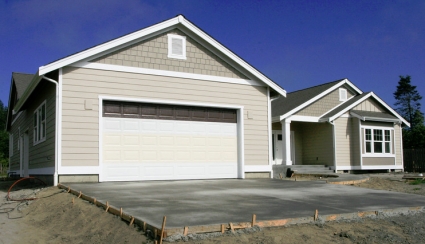 This photo was taken by Rick recently.  Think Rick and Marilyn are excited?  You bet they are.  They can hardly wait to get settled into their new home.  By the way, it has been said by more than one of my clients that Sequim has the bluest sky they've ever seen.  This photo has not been digitally enhanced and the sky most certainly is blue.
Last Updated on September 2, 2019 by Chuck Marunde