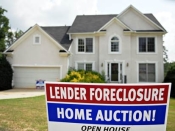 Question:   Chuck, you write about foreclosures, the process, issues for investors, and I appreciate your foreclosure checklist for the entire process showing all the fees and costs, but what are some of the traps for a buyer of foreclosure properties?
Answer:   Good question. There are many traps, and I'll write a full article on this, but here are a few.
1.) I had a client who came to me after he thought he bought a house at a foreclosure sale, but he actually bought a second mortgage. The first mortgage balance was more than the house was worth. He lost his $50,000.   That was sad, because he worked seven years to save that $50,000.

2.) I know a gentlemen who bought a foreclosure only to find out later that a substantial number of the beams under the house had to be replaced because of rotten timbers. He said after all the money and time, he will be lucky to break even.
3.) Buying a pre-foreclosure property or negotiating a great price on a house prior to the trustee's sale could be great, but a purchase can be subject to unknown subordinate mortgages, mechanic's liens, labor liens, federal tax liens, assessments, and judgments, not to mention possible permit violations, boundary disputes with neighbors, easement or access problems, adverse possession claims or easement by prescription claims, and about 100 other possible legal issues.
It's dangerous out there. Be careful.
Last Updated on September 20, 2019 by Chuck Marunde